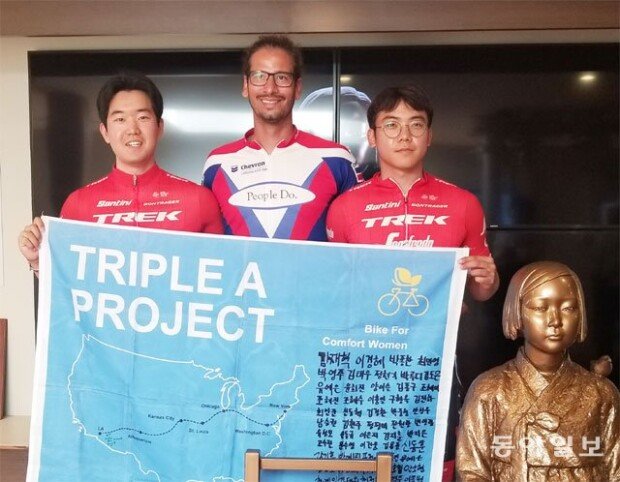 "Over the three months, I wanted to give up more than one hundred times. But when I thought of the pain of the comfort women, I could not stop pedaling."
On June 23, two young Korean college students in their 20s started pedaling at Santa Monica Beach in Los Angeles. They fought with sweltering heat exceeding 40 degrees Celsius and headed east towards New York City. They rode 6,600 kilometers across Arizona, New Mexico, Oklahoma, Kansas, Missouri, Illinois and Pennsylvania to reach Washington D.C. and New York City. An American high school teacher, who learned of their story in an online cycling community, also joined them from Chicago.
Baek Hyun-jae (age 25 of Baeksuk University) and Lee Ho-jun (age 22 of Incheon University) and U.S. school teacher Antonio Navarro (age 34) finished their trip on Friday in New York City. Their tanned faces were testament to their tough journey when your reporter met them at the press conference held at the Korean American Association Center in Manhattan, New York, home to the "Statue of a Girl of Peace" on September 4 (local time). "I thought that bicycles, as they are driven purely by human power, would be a way to express the suffering of the comfort women," said Baek. "I thought this was the only chance for me, because I wouldn't have time after getting a job."
They spent five to six hours pedaling every day, crossing the deserts of Arizona and New Mexico and the mountainous regions of the east coast. Due to the heat, they had collapsed and been assisted by the highway patrol. Their lives were threatened by a traffic accident, but they did not cease pedaling. About 90 percent of the people they met on their trip were not aware of the comfort women issue. "When we told Americans, everyone said that the comfort women issue was a universal human rights issue, not confined to Korea and Japan," said Lee.
"It is shameful that there are still war crimes such as rape happening around the world," said Navarro, a teacher of Spanish language at Chicago High School. "I think that this journey will impact the rest of my personal life and career."
Baek and Lee are the fourth members of the "Triple A project," which urges the Japanese government to "admit" that it had forced women to serve as sex slaves, "apologize" to them and "accompany" the victims. The project, which was launched in 2015, is a group consisted of Korean college students to promote awareness of the comfort women issue.
Yong Park parky@donga.com