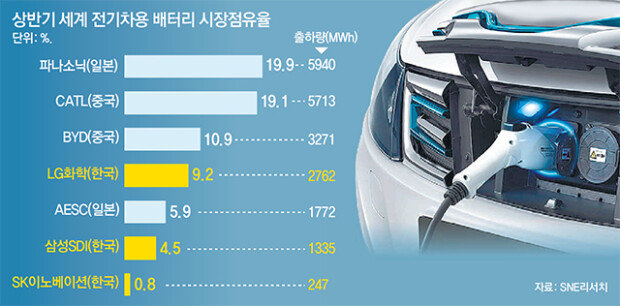 The decision by the Chinese government to cut the number of subsidies for local electric vehicle battery makers has been causing chaos for the industry, with many businesses facing bankruptcy or a halt in production. The subsidies advantage that the Chinese battery makers have enjoyed against their Korean and Japanese competitors is now boomeranging back.
OptimumNano, the third largest battery maker in China, announced on Monday that it will suspend the operation of its production line for the next six months, citing lack of financing. In April, the company had faced default, subsequently beginning to cut production. Established in 2002, the value of the Chinese battery maker stood at 900 million yuan (145.7 billion Korean won) in 2014, but it surged to 5.2 billion yuan in 2016. Net profits skyrocketed from 2.22 million to 425 million yuan during the same period. Behind such a miraculous success was the financial backing from the Chinese government.
In 2012, the Chinese government launched a development plan for energy-saving and new types of energy vehicles, and since then, it has provided electric car makers with subsidies accounting for roughly half of the prices of vehicles. The goal was to promote the electric car business as a way to make up for the gap of competitiveness that has already been widened in the industry of internal combustion engine cars. China sharpened the competitive edge of its electric car businesses by subsidizing vehicles equipped with Chinese batteries.
The situation has turned around as the Chinese government began to cut the scale of grants from last year in a bid to scrap the subsidy program altogether by 2020. In 2016, the central government and local municipalities of China provided a total 110,000 yuan for each electric car that runs 250 kilometers per single charge. The size of subsidies, however, was cut in half to 66,000 yuan in 2017, and starting in 2018, the sum has shrunk as small as half. The amount of government subsidies has dwindled to one fourth over two years. Subsidies for mileages less than 150 kilometers have already been abolished.
CATL, the biggest electric car battery maker in China competing with Panasonic for the No.1 spot, is also facing difficulties. The annual operating profits of CATL soared from 880 million yuan to 2015 to 2.96 billion yuan in 2016, before plummeting to 2.47 billion in 2017. BYD, the second largest producer of Chinese-made batteries, has seen the profits in the first half dropping 72 percent year-on-year, and Yinlong New Energy had its production facilities seized in June, failing to make ends meet.
Korean battery makers such as Samsung SDI, LG Chemicals, and SK Innovation, are carefully expecting to benefit from the latest developments in China. "The Chinese batteries makers will likely be priced out of the competition by 2020 when the subsidies program will have been scrapped, and the excessive production originated from China will naturally come to an end," said an official from a domestic company. "It is a good signal for South Korean companies as we have a technological advantage against Chinese competitors." According to GGII, a market research company, the number of battery makers in China has fallen from 109 in 2016 to 80 in 2017, and it is expected that only 10 to 20 companies will have survived by 2020.
Tae-Ho Hwang taeho@donga.com