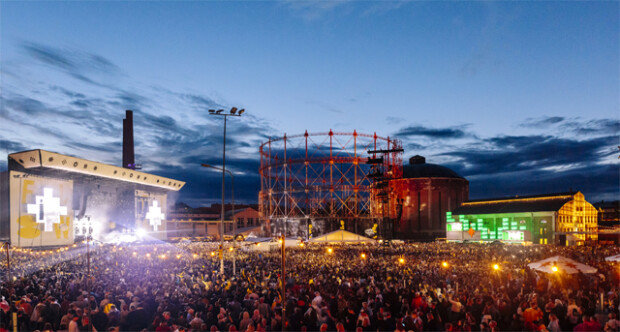 The site of the disused Suvilahti Power Plant in Helsinki may look like a blight when seen from a distance. However, the area comes back to life around this time of every year with the magic of music. In August, some 90,000 people crowd the site for three days to join the Flow Festival, the hottest and coolest hipster festival in northern Europe. A Dong-A Ilbo reporter joined the party from August 10 to 12, instead of working in the stuffy office in Seoul.
The Flow Festival is a popular music festival that showed the fastest growth in northern Europe in the 21st century. Against the backdrop are the clear theme of collision and flow between antagonistic things. The festival's representative image is not a green field but the four towering chimneys of the old power plant.
Just like the metaphor, the absolute premise of this event is revival and sustainability. Installation artworks reusing waste bicycles, tires and containers are set up here and there at the maze-like site. The festival also embraces everything from refined architecture, multimedia works and street arts such as graffiti.
The main theme of some 144 teams of performers is communication between generations. The Flow organizers' perspectives are extraordinary, as the performers include rapper Kendrick Lamar, Terry Riley, a pioneer of minimalist and electronic music, and German electronic music band Tangerine Dream.
As I left the site on Sunday night, I imagined coming back to the Flow Festival next August. It is also worthwhile to visit Aalto University campus designed by Alvar Aalto, the father of modernism in Finnish design, and the Amos Rex museum, which has reopened as a multimedia gallery. There are good reasons why Helsinki has emerged as a hot city among youths around the world.
imi@donga.com