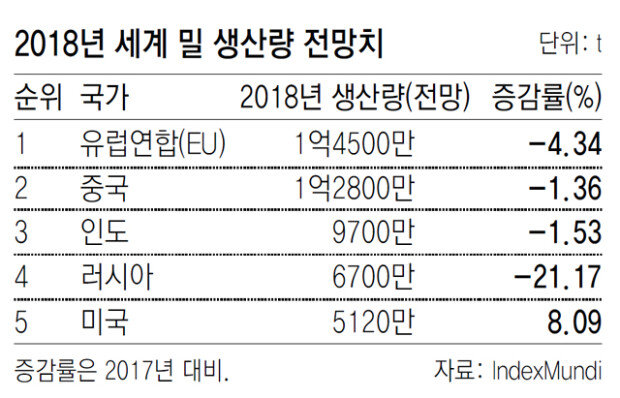 Extreme and widespread heatwaves around the globe have taken a toll on wheat plantations as well. Major wheat producers, including the EU, China, India, and Russia have lowered their forecast for this year's wheat harvest. Analysis includes that the wheat price may soar to the level of 2007-2008 global grain price crisis that cost thousands of lives in impoverished countries in the Middle East and Africa.
Consultancy Strategie Grains has cut its forecast for this year's wheat harvest in 28 EU countries, the largest wheat producers in the world, to less than 130 million tons. "This year's wheat harvests in the EU will hit a record low since 2012," said Strategie Grains. Germany, France, and Britain all have suffered from scorching weather over 40 degrees Celsius and droughts, which directly affected farmers.
Foreign press, including Reuters, said the current situation is reminiscent of the 2007 global grain price spike. In 2007, major wheat producers declared a ban or restriction on exports of grains as they had seen their wheat harvests drop due to extreme weather. This hiked global grain prices by two to three times, resulting in food shortages in impoverished nations in the Middle East and Africa. In fact, the wheat price is already rising in Europe. Earlier this month, European wheat was traded at 248 dollars a ton, which is the highest price in the past five years and an increase of 20 percent compared to three weeks ago.
Rising global wheat prices has caused alarm among countries that rely heavily on imports for meeting their wheat consumption. The case in point is Egypt, the largest wheat importer in the world. For Egyptians, a rise in wheat price is directly linked to food security as they eat this flatbread called Aish Baladi, which is made with whole wheat flour and baked in hot ovens, every day. Egypt imports 60 percent of its wheat needs. To increase the country's self-sufficiency of wheat production, the Egyptian government cultivated wheat in the 1.36 million square feet field this year, 150,000 square feet larger than that of 2016. The scorching heat, however, also affected the wheat harvests in Egypt. While European countries and China suffered a drop in their wheat harvests this year, the United States, which suffered relatively less from the heatwave, is likely to benefit greatly from this extreme weather. American market research firms expected "an unbelievable opportunity for American farmers around November (when wheat prices are likely to increase even further)."
Ga-In Koo comedy9@donga.com · Dong-Il Seo dong@donga.com