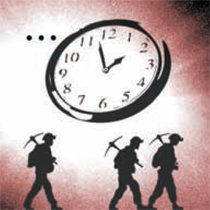 "Workers arrive at construction sites at 7 a.m. and work until 10 p.m. or even midnight, taking just two half-hour breaks for meals of rice and dried fish," said a contractor who hires North Koreans at a construction site in St. Petersburg, Russia, in an interview with the Wall Street Journal (WSJ) Thursday. "They are like soldiers. They've got the discipline," said another executive at a large real-estate firm in the city. The newspaper said that according to local businessmen, North Korean laborers have helped feed the construction boom in St. Petersburg, known as Leningrad until the name was changed in the past.
In September last year, the United Nations Security Council barred governments from issuing new work permits to North Koreans. According to the WSJ, however, Russian Interior Ministry and Labor Ministry records show that over 10,000 North Korean workers have newly registered in Russia since the ban, and some 700 new work permits have been issued to North Koreans this year. Also, some companies have hired North Koreans by forming joint ventures with North Korean entities, in an apparent violation of sanctions.
Before the U.N. Security Council imposed sanctions on Pyongyang, some 100,000 North Korean laborers had been working overseas, earning 2 billion dollars a year for the Kim regime. Yet, in line with the sanctions put in place, many countries around the world have stopped renewing North Korean worker visas. In a report submitted to the Security Council released recently, Qatar said that only 150 North Korean workers were left in the country while some 1,000 had stayed until September 2017. However, Russia seems to be going against the tide, pretending to call for compliance with sanctions on the surface but secretly letting North Koreans into the country, as around 24,000 North Koreans were officially working in the country at the end of last year.
We used to think of North Korea's labor force overseas as lumberjacks working in Siberian fields, but they are now working in various areas including construction, defense, and IT. Back in 1966, North Korean laborers were forcibly sent to Russia to work as lumberjacks under a secret agreement between Leonid Brezhnev and Kim Il Sung. Nowadays, however, many of North Koreans working overseas have volunteered. Still, while they work hard to earn money, more often than not, there is not much left to send home after giving a certain amount (6,000 dollars a year as of 2016) to the North Korean authorities under the name of a national plan. This means that North Korean laborers are trapped in a threefold system in which they are robbed by North Korean officials when they land overseas jobs and come back home, while also receiving an income lower than that of Russian workers. The South Korean government should bear in mind that the misery and exploitation of North Korean workers are a universal human rights issue.