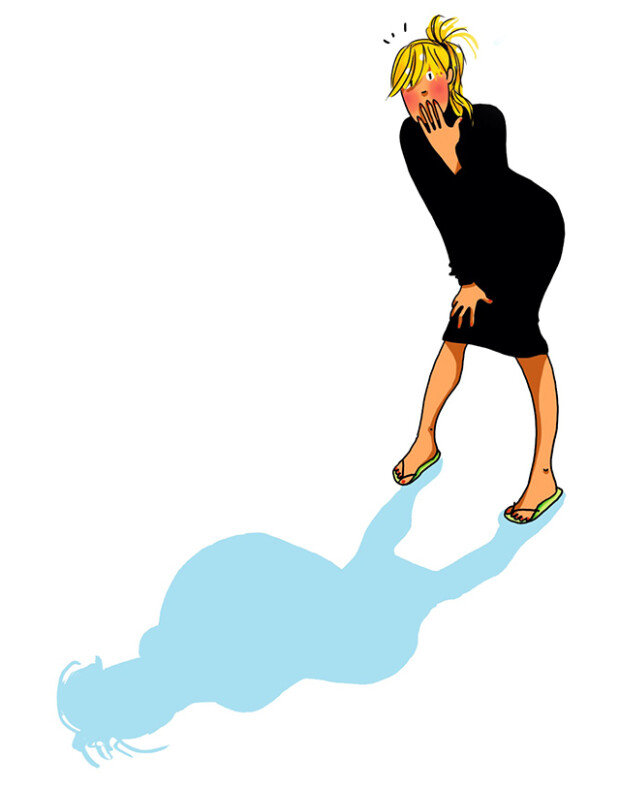 It is not a story about the wonders of a new life or the sublime of motherhood. Instead, there are descriptions of the discomfort, fear and desolation. The French graphic novel "Enceinte!," recently published by Book Recipe in Korea, has been known for its frank descriptions of women's feelings of pregnancy. "My first pregnancy was catastrophic, like a bolt out of the blue," says Mademoiselle Caroline, who was interviewed via e-mail on Friday.
"I wanted to talk about matters that people did not want to mention," the 44-year-old cartoonist said. "Any woman who has gone through the experience knows that pregnancy is not always wonderful, but no one really wants to admit it. I wanted readers to relate to my story and feel that they aren't the only ones who have felt that way."
The book is a detailed description of the situations faced by a pregnant woman. Morning sickness, sleep disorder, the husband lying on the sofa playing video games, the annoying friend who always intrudes and the desire to wear high-heels. "I wanted to tell the stories of pregnant women as much as I could. After I saw a reader who filled a page with her own experience on the book, I created a space where readers could write their own experience in the revised edition," she said.
She is famous for her autographical and humorous work. She shares her own experience of dealing with serious depression three times in "Différence invisible," her most well-known piece of work. "I have special affection for the book. Suffering from depression is not one's fault. I wanted to tell that depression should not be something to be ashamed or hidden," she said. Her recent work, which she is currently working on, titled "My Life as an Artist," is also autobiographical and based on her own experience in art school and the industry she works in.
"I'm seeking to make a small rebellion through my stores. People do not like to talk about their depressions or complain about pregnancy being like hell," Caroline said. "But I purposely deal with such subjects, because I know that other people feel the same way inside."
The term "graphic novel," well-known to Korean fans through Marvel or DC's Superhero, refers to works of literary value in Europe. It has been recognized as a field of art based on auteurism and positioned as an independent genre. Caroline believes that "depth" is one of the strong points of graphic novels.
"When I visited Korea for the first time last year, I was extremely surprised at the rapidly growing webtoon market, which I believe has competitiveness in terms of its speediness," she said. "But I think it would be difficult to savor the long lines or appreciate the beauty of editing in each page by reading from a small screen. Maybe I am old-fashioned; I prefer the graphic novel style of investing several days to get through the book."
easy@donga.com