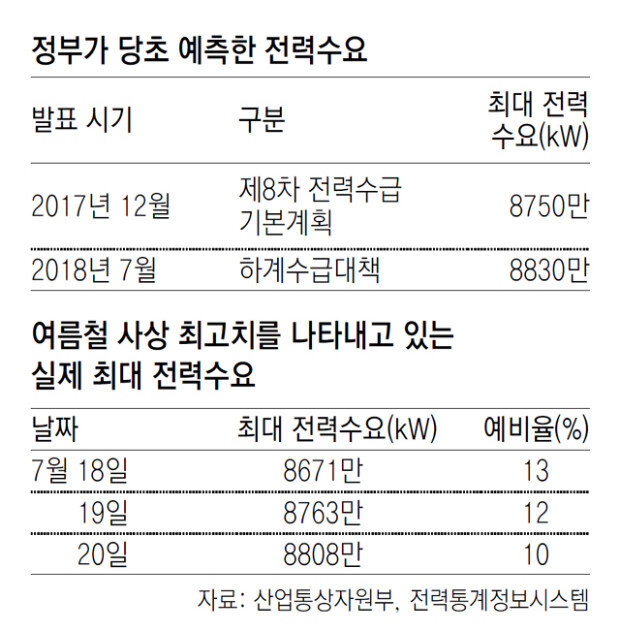 The South Korean government is struggling to come up with power supply measures by delaying the maintenance schedules of nuclear power plants against the backdrop of a surging power demand amidst the ongoing record-breaking heat waves. Some experts say that the administration's drive for "Energy Conversion Policy in the Post-Nuclear Power Era" is facing head wind, with its estimate for power demand being much lower than the actual figures.
On Sunday, the corporation of Korea Hydro & Nuclear Power announced that it would resume the operation of the nuclear power plants currently in maintenance as soon as possible while postponing the maintenance work of some power plants until after the second and third weeks of August, which will likely be the peak time for power demands this summer.
According to the KHNP, among the 24 nuclear power plants in South Korea, a total 17 of power plants, including Hanul-4, whose operation was resumed on Saturday, are currently in operation. Among the 17 plants, Hanbit-1's maintenance has been postponed to August 18, whose regular safety maintenance was scheduled as August 13. The initial maintenance date for Hanul-1 has also been rescheduled from August 18 to 29.
The Ministry of Trade, Industry, and Energy, an organization in charge of power supply planning, predicts that the peak of power demand will come earlier than previously expected from mid-August to late-July (from July 23 to 29). The energy ministry said that it would make sure to provide meet the demands by mobilizing multiple sources of power generation, in addition to nuclear power plants.
With the government making an announcement on expansion of power supplies against the heat waves, its plan to phase out of nuclear power by managing supplies has effectively gone off track.
Lee Sae Saem iamsam@donga.com