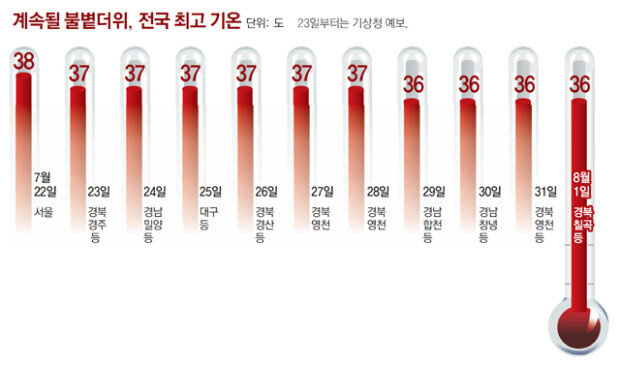 The daytime temperature of Seoul City hit record high since the "heat wave" of 1994 on Sunday. With heat warnings issued nationwide excluding a limited number of places, the "murderous heat" has been continuing for more than ten days. The Korean Peninsula is expected to be engulfed in heat for at least two more weeks as there is no sign of rain until early August.
The daytime temperature of Seoul City recorded 38 degrees Celsius on Sunday, which is the fifth highest since temperature has been documented since 1904. This is the highest figure in 24 years since July 24, 1994 (38.4 degrees Celsius), which was the hottest day in history. The ozone warning also continued for four days due to the strong sunlight. Yeoju, Gyeonggi Province saw 39.7 degrees Celsius, which was the hottest place on that day.
Patients with thermal problems also skyrocketed as of Friday, with as much as 956 people. Ten people died, which is three times of the number during the same period last. Accidents in this scorching heat are happening one after another with a 62-year-old man drowning to death while hanging out in a two meters deep river at Inje, Gangwon Province on Sunday.
Mee-Jee Lee image@donga.com · Hyung-Seok Seo skytree08@donga.com