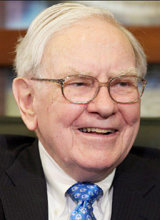 U.S. media including CNBC reported on Monday (local time) that Warren Buffett, chairman of Berkshire Hathaway, decided to donate some 3.4 billion dollars' worth shares to charity institutions this year. Mr. Buffett has been donating a certain part of his shares to charity institutions every year since 2006.
On that day, Mr. Buffett revealed through a statement that he decided to donate 17,800,500 Class B shares of Berkshire Hathaway that he owns to five charity institutions including Bill and Malinda Gates Foundation. This figure is a seven percent increase from the amount of shares he donated last year worth 2.4 billion dollars. Class B shares is shares issued with a value that is one-thirtieth of Class A shares, of which the par share price is higher. The donation this year was carried out by converting 11,867 Class A shares into Class B shares. Buffett promised to gradually donate 500 million Class B shares to the Bill and Malinda Gates Foundation, which was established by Microsoft co-founder Bill Gates and his wife.
CNBC stated that the amount of property Warren Buffett donated to charity institutions up until now from 2006 amounts up to some 46.7 billion dollars in current market value. By donating 13.5 million shares to the Bill and Malinda Gates Foundation, Mr. Buffett donated 204,330,000 shares in total.
The remaining shares to be donated will be sent to the Buffett family charity foundations including Susan Thompson Buffett Foundation, Sherwood Foundation, Howard G Buffet Foundation and NoVo Foundation, respectively.
chan2@donga.com