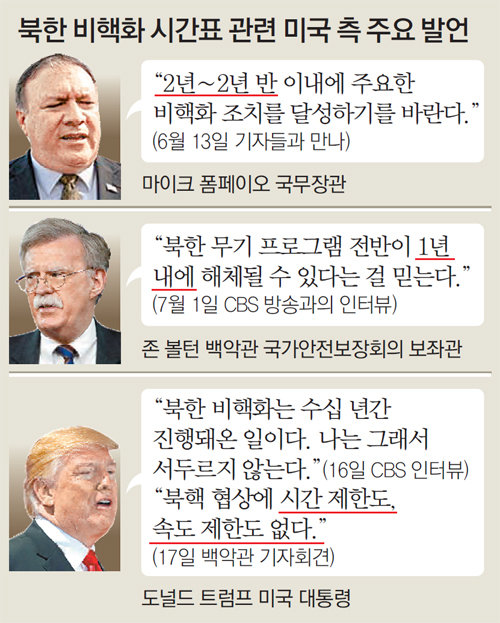 U.S. President Donald Trump said Tuesday (local time) that there is "no time limit" and "no speed limit" on North Korea's denuclearization, suggesting that he would not rush. After hinting that the denuclearization talks will become a protracted process, he said for the first time that there is no timetable for Pyongyang's denuclearization. The remark is seen as a withdrawal of his previous position on seeking a one-shot deal in a short period of time, fueling concerns that the denuclearization talks will take longer than expected.
Until just before his historic summit in Singapore with North Korean leader Kim Jong Un, Trump repeatedly expressed his will to completely denuclearize North Korea in a one-shot deal. Raising expectations of a quick solution, U.S. Secretary of State Mike Pompeo suggested the North's denuclearization before the end of Trump's first term (late 2020), while White House national security adviser John Bolton mentioned the North's scrapping of its nuclear program within a year.
However, setting a denuclearization timetable fizzled out, as Trump failed to induce a concrete implementation plan at the summit with Kim. During his recent visit to Pyongyang, Pompeo also failed to make progress in his negotiation with Pyongyang over a detailed denuclearization plan, spreading the perception that a one-shot deal is technically impossible.
As talks for the North's denuclearization get protracted, some experts say that future U.S.-North Korea negotiations could be swayed by Pyongyang's typical salami-slicing tactics. They say that as the North uses the tactics of seeking compensation for every measure it takes under the principle of "phased and simultaneous action," it is highly likely that the denuclearization talks will end up in a tug of war without producing tangible results.
However, South Korean government officials say that neither Washington nor Pyongyang is willing to break up the talks. A senior Seoul official said that the two sides are "caught in the head and the tail by each other" and thus will continue the talks, albeit at a slow pace.
There are also concerns that the U.S.-North Korea talks will proceed with event-like measures such as the destruction of a missile engine test site, rather than with full-fledged denuclearization negotiations. Experts also project that the working-level denuclearization talks will also be maintained at a level that would not disrupt the dialogue momentum.
lightee@donga.com