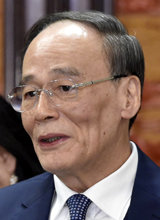 Chinese Vice President Wang Qishan who is thought of as a person to solve conflicts between the United States and China has not responded to the U.S.-China trade war, garnering much attention of the public as a result.
Some projected that Wang would visit Washington to negotiate, but many Chinese experts say, "The possibility of him visiting the United States is low because he doesn't have reasons to get involved in the negotiation currently headed by Chinese Vice Premier Liu He."
Wang who made a huge comeback at the National People's Congress in March was expected to put off the fire between the two countries, which makes some to suspect that he has a reason not to get involved in the trade war. He has vast experiences in negotiating with the United States such as leading the U.S.-China Strategic Economic Dialogue while he served as a vice minister from 2009 to 2012, and also established a broad network in the United States. He had a series of private meetings with U.S. ambassador to China Terry Branstad and former White House advisor Steve Bannon before he was appointed as vice president. Even after the appointment, he reportedly had many more private meetings with American businessmen.
But he is nowhere to be seen in the imminent trade war, as reported by Voice of America. Reuters reported that Beijing appeared to be reluctant for Wang to get involved in the article "China's 'firefighter' vice president avoids flames of U.S. trade war."
"The United States and China will come to the negotiation table one day, but the trade war is likely to be prolonged," said a diplomacy expert. "Beijing would face a dilemma if the trade war slows down China's economic growth and people's lives are affected by it."
Wan-Jun Yun zeitung@donga.com