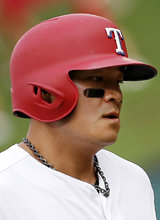 Choo Shin-soo is now on an away trip. He would leave home every time and this time, he returned home only to score more.
Rangers' Choo Shin-soo (age 36) extends on-base streak to 44 games with a sixteenth home run for the season. He changed Ichiro Suzuki's longest on-base streak for an Asian player at 43 games in 2009 in nine years.
At the home game with the Houston Astros on Wednesday, Choo Shin-soo was designated as the first hitter and hit pitcher Gerrit Cole's 154km/h fast ball, sending the ball past the left-center wall. At the fourth inning, the Korean right fielder accomplished a multi-hit game by recording two hits at the unfavorable ball count of two strikes.
The historic record of the major league is yet high. Choo Shin-soo's 44 games recorded joint 100th place since 1908 while the 1st place goes to Ted Williams of the Boston Red Sox in 1949 whose record is 84 games.
yesbro@donga.com