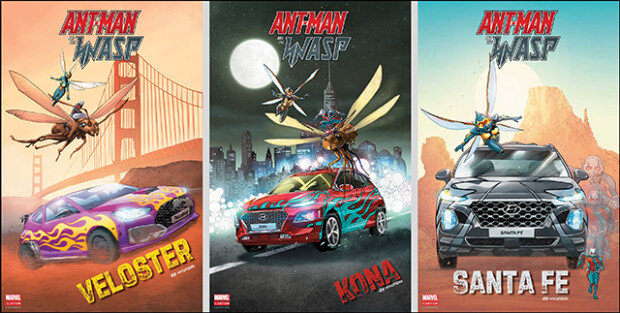 Hyundai Motor's Veloster, Kona and Santa Fe will be featured in the Hollywood movie "Ant-Man and the Wasp," which will be in theaters Wednesday.
Hyundai Motor said on Wednesday that it has signed a partnership with a leading global entertainment company Marble Studio and provided Veloster, Santa Fe and Kona for shooting.
Ant-Man and the Wasp is an action blockbuster movie, which portrays Ant-Man and his new partner Wasps' unpredictable missions and performances. In the movie, Ant-Man drives around the hillside roads and alleys of San Francisco in a purple Veloster decorated with blazing yellow flames, escaping the chase of the tailing cars.
Main characters of the movie drive Kona and Santa Fe in the movie. The cars hage into various sizes, offering moviegoers a spectacle.
Taking the opportunity, Hyundai Motor is planning to feature its cars in more movies as part of its global marketing strategy. Hyundai showcased Veloster that actually appeared in the movie along with the regular model at the world permiere of Ant-Man and the Wasp in Los Angeles on June 25 (local time), drawing attention of global customers. The Korean auto giant also unveiled the movie's poster, a work collaborated by artists from Hyundai and Marble.
Hyoun-Soo Kim kimhs@donga.com