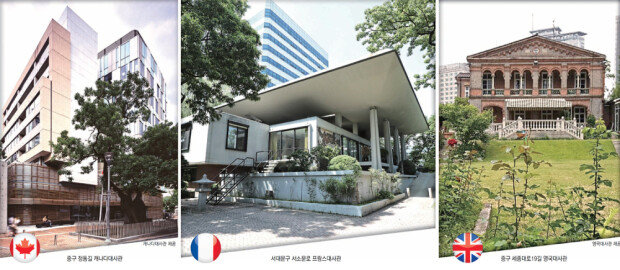 In the neighborhood of Gwanghwamun, where modern skyscrapers stand roof by roof, there are small buildings with unique styles of architecture. Their exotic atmosphere is probably better suited to near college campuses than at the center of the city. Surrounded by a low stone wall, some of them seclude themselves from the busy business district, which stimulates people's curiosity even more. It is not easy to visit and go inside them due to their limitation on opening to the public. They are foreign embassies.
An embassy building is viewed as a symbol of a country's diplomacy. "Many countries believe the embassy building is a primary tool to let the world know about a country, more or less," said a diplomat stationed in Korea. "Each country tries to reflect features that can show the historic relations and cultural exchanges between its own country and the country of residence in building an embassy." The same goes for Korea. In recent decades, the country has gained stature in the international community while its culture or the "Korean Wave" has become popular in Asian countries as well as in North America and Europe. Naturally, Korean embassies in foreign countries have been actively playing a role to promote the country even more while maintaining momentum for its cultural popularity.
Due to its long history and distinctive style, the British embassy in Seoul once appeared on a TV show. South Korea's reality variety show 2 Days and 1 Night introduced the embassy in an episode where the show's members went on a tour for future heritages in Seoul. The embassy building was one of the buildings with historical and cultural values in Seoul that were introduced at the episode.
Se-Hyung Lee turtle@donga.com