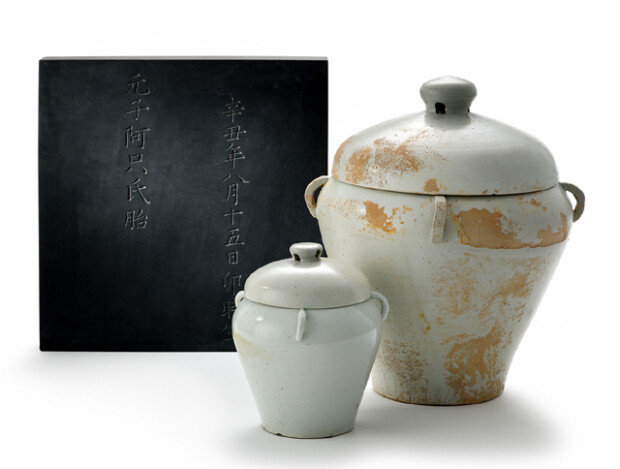 In the Joseon Dynasty, there was a unique ritual called "Antae." Considered important by the royal family, it was a practice of burying a newborn baby's placenta to wish for the health of future generations and the stability of a nation. On the third day after the birth of a baby, the umbilical cord was placed inside a placenta jar and buried under an auspicious site to be managed by a placenta chamber.
A unique exhibition will be held where the authentic placenta jars of 18 kings out of 27 kings of the Joseon Dynasty will be displayed. The National Palace Museum of Korea in Jongno District, Seoul, will open the special exhibition titled "The birth of a baby in the royal family of the Joseon Dynasty: Placenta jars that hold the luck of a nation" on Wednesday. Co-organized by the Jangseogak Archives of the Academy of Korean Studies, the exhibition will open to the public around 300 artifacts and literature regarding the childbirth culture of the Joseon Dynasty's royal family.
The first part of the exhibition, which consists of four parts, starts with "Jongsajigyeong, the prosperity of the royal family is hoped." The word "Jongsa" refers to katydids and insects, and it means the harmony of a married couple and the prosperity of descendants. The folding screen of one hundred boys, which symbolizes fecundity, as well as traditional ornaments worn by Yi Bang-ja, Crown Princess Uimin of Korea, will be displayed.
In the second part titled "Gogojiseong, the first cry is echoed," visitors can take a look at artifacts related to the process of a baby's birth. Documents about the Delivery Room Office, which was installed for childbirth, the Guidance Office that was in charge of nurturing, the role of foster-mothers and other related practices will be presented.
In the third and fourth parts, the placenta chambers of kings from King Taejo to Kings Sejong and Jeongjo will be displayed. Visitors can take a look at how placenta jars had developed from pottery through Buncheong, stoneware with a bluish-green tone, and to white porcelain. Special lectures associated with the exhibition will also take place on July 26 and August 9. The exhibition is free of charge, and will be held until September 2.
Won-Mo Yu onemore@donga.com