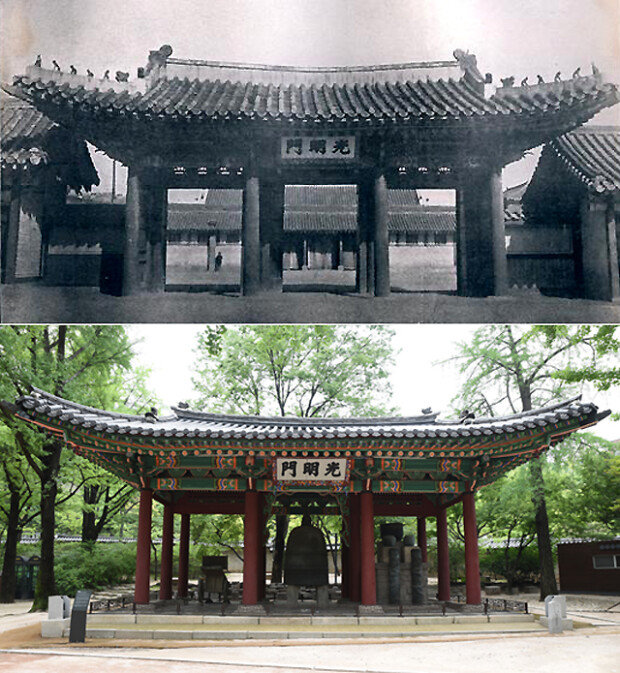 If you walk inside the Deoksugung Palace, you will see the Gwangmyeongmun Gate in the southwestern part of the palace facing the stone wall. With double eaves and octagonal roof, the gate has lost its original purpose but instead exhibits relics, such as Clepsydra and bell.
Originally, the Gwangmyeongmun Gate was the gate to Hamnyeongjeon Hall, which was the sleeping residence of King Gojong. But after Japan annexed Korea in 1910, it arbitrarily relocated and demolished structures in the Deoksugung Palace. In 1938, Japan opened the Yi Royal-Family Museum inside the palace and relocated the Gwangmyeongmun Gate to where it is today.
The Gwangmyeongmun Gate will go back to its original place after being neglected in the wrong place for the past 80 years. The Cultural Heritage Administration, with the presence of 100 figures from the cultural and business sectors, held a groundbreaking ceremony titled, "Putting the Gwangmyeongmun Gate back to its place" in front of the Gwangmyeongmun Gate on Tuesday and announced the start of relocation construction.
Earlier in 2016, a structure site that is the same in arrangement and floor plan as the Gwangmyeongmun was found. Based on this, the Cultural Heritage Administration is planning to complete the relocation of the Gwangmyeongmun Gate until the end of this year.
Won-Mo Yu onemore@donga.com