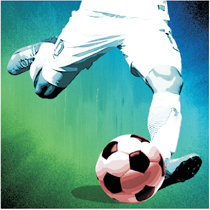 Russia's Aleksandr Golovin scored from a brilliant free kick in injury time in the opening match against Saudi Arabia Thursday. This is what football is all about. American political scientist Henry Kissinger, who is also a football maniac, once compared football to ballet. He said the foot movements of footballers are as delicate as those of ballerinas. Fantastic dribbles, accurate passes and exquisite free kicks all require a delicate foot movement.
From Pele and Maradona to Messi and Neymar, great footballers with top dribble and passing skills are usually good at free kicks, too. But the greatest free kick taker in the history of football would be Sinisa Mihajlovic of Serbia. He is the only footballer to score a hat-trick from free kicks. David Beckham of England was also well-known for his bending free kick. But then coach of England Sven Eriksson said, "Although Beckham is good at free kicks, it would be rude to compare him to Mihajlovic."
Recently, no spin free kicks are changing the history of free kick. No spin on the ball makes it hard to expect how the friction between the ball and the air would play out and this makes it difficult to read the ball. Goal keepers say they feel like the ball suddenly drops in front of their eyes or disappear somewhere. Ronaldo of Portugal is capable of shooting powerful no spin free kicks. Son Heung-min and Jung Woo-young of Korea also can shoot no spin free kicks. I expect their great performance in Korea's first match against Sweden next Tuesday.
Egypt's Mohamed Salah is the rookie to look out for at the World Cup. This Liverpool forward showed remarkable performance during the 2017-2018 premier league. The only problem is the injury he suffered from the Champions League Final. If he has fully recovered from the injury remains to be seen. Other players such as Antoine Griezmann of France, Harry Kane of England and Timo Werner of Germany are also showing great scoring abilities. The World Cup would be even more interesting to watch with the emergence of rookies as well as legendary players like Messi, Ronaldo and Neymar.
pisong@donga.com