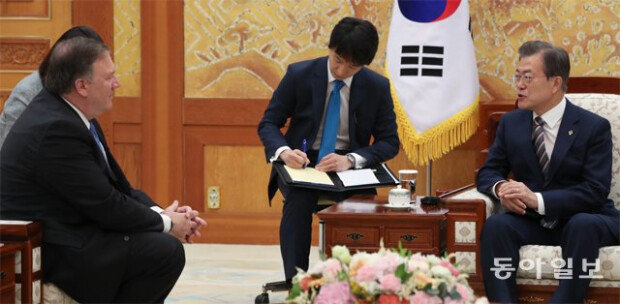 U.S. Secretary of State Mike Pompeo stressed Thursday that verification will be central to North Korea's denuclearization, adding that verification is included in the concept of "complete denuclearization" specified in the joint statement issued in the recent summit meeting between U.S. President Donald Trump and North Korean leader Kim Jong Un in Singapore.
"When we refer to 'the mistakes of the past,' they were providing economic and financial relief before the complete denuclearization had taken place. And that is not going to happen," said Pompeo, before holding three-way talks with South Korean Foreign Minister Kang Kyung-wha and Japanese Foreign Minister Taro Kono, adding that Kim Jong Un also "understands the urgency of timing for his country's complete denuclearization." Having visited South Korea after accompanying Trump for the Singapore summit, Pompeo had a meeting with South Korean President Moon Jae-in and said he reaffirmed the North Korean leader's commitment to denuclearization, adding that he seemed eager to achieve something big and do so fast.
Pompeo told reporters that Washington hoped to achieve "major disarmament" by Pyongyang within the next two and a half years (when the first term for President Trump will have ended), proposing a timetable for denuclearization for the first time. As to the suspension of the joint military exercises with South Korea, Pompeo said Mr. Trump "made it very clear that the condition precedent for the exercises not to proceed was a productive, good-faith negotiations being ongoing," stressing that without fulfilling the condition, Trump's commitment will no longer be in effect.
peacechaos@donga.comysh1005@donga.com