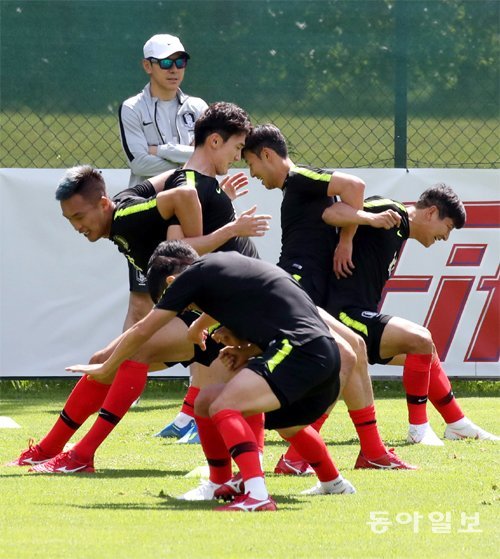 As Korean striker Kim Shin-Wook nailed the ball with a heading during football tennis, Kim Young-kwon (Evergranc, Guangzhou), stood in awe. The Korean national soccer team started to prepare for the 2018 World Cup in Leogang, Austria, on Tuesday (local time). On the first day of training, they practiced playing football tennis and game-like exercises to recover their physical condition.
Ki Sung-yueng took on the role as a leader to boost the team members' concentration. The national team made only the first 15 minutes of its training session public on Tuesday afternoon. Detailed tactical training focused on the first match against Sweden was held behind closed doors. One of the training the team has kept completely secret is the set piece. "We have decided to keep our strategy veiled in order to show it on the finals," said Shin Tae-yong, coach of the national team.
Set piece is a situation that allows a team to break down the strong opponent team. Korea, which objectively lacks power to Sweden, Mexico and Germany, should actively utilize set pieces, which can be won by a foul. Sweden allowed two goals through set pieces in the final qualifying round of the World Cup. Mexico and Germany lost one point each due to set pieces. Sweden, the first opponent of South Korea, has three tall defenders who are over 190 centimeters. For this reason, a detailed set piece attack is necessary to break down the opposing defense with strong power and organization.
In the World Cup, Korea has scored many goals with set pieces. Out of the 31 goals recorded in previous World Cups, 11 goals (35.5 percent) resulted from set pieces. The Korean team scored through set pieces in every World Cup games starting from the 1986 World Cup in Mexico to the 2010 World Cup in South Africa.
Since taking the helm of the national team, Shin has scored only four out of 23 goals in a set piece. In particular, he failed to score a goal with a set piece in two friendly matches (Honduras, Bosnia and Herzegovina) held in Korea, before kicking off training in Austria.
"We intentionally did not reveal the set pieces in the domestic matches," Shin said. "Since we are perfecting the set pieces through training, we will apply them to the friendly game against Senegal on Monday (behind closed doors)."
Yun-Cheol Jeong trigger@donga.com