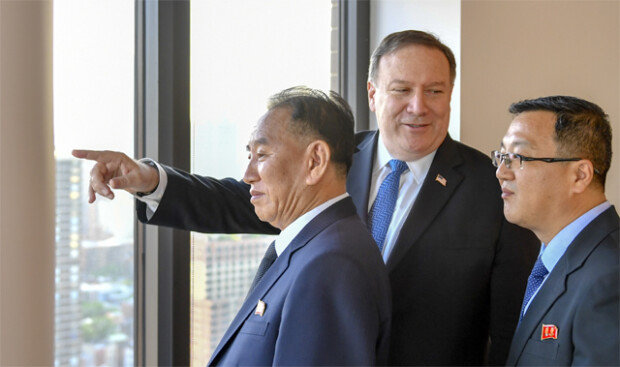 U.S. Secretary of State Mike Pompeo and North Korean Vice Chairman of the Central Committee of the Workers' Party Kim Yong Chol engaged in a negotiation on the agenda and schedule including denuclearization and regime guarantee from 9 a.m. Thursday (local time). Denuclearization and regime guarantee are the two essential agendas that both Pyongyang and Washington takes seriously. In relation to this, Pompeo announced that he would have a press conference at the Palace Hotel in New York at 2:15 p.m. the same day and reveal the result of his negotiation with Kim.
Pompeo and Kim dined for about 90 minutes from 7 p.m. Wednesday at a government residence located on the 37th floor of the Corinthian condominium complex on East 38th Street of Manhattan. This apartment, which is adjacent to the United Nations Headquarters, is resided by diplomats.
Vice Chairman Kim, who is subject to sanctions by the U.S. Treasury, is known to have received a visa that permits him to stay in the United States until Friday. Some people expect that Kim may stay for another day if they are not able to find a settlement at his meeting with Pompeo. If they are able to narrow down their differences, there is a possibility that the senior North Korean official may fly to Washington immediately and meet President Trump. If a meeting by chance takes place, North Korean leader Kim Jong Un's handwritten letter would be delivered.
With respect to the summit with North Korea at a regular press briefing on Thursday, White House spokesperson Sarah Sanders announced that "the Summit is expected to be held on June 12," implying that preparations are underway with the June 12 summit in mind.
Yong Park parky@donga.com · Sung-Ha Joo zsh75@donga.com