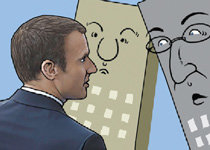 Facebook is singled out as the most popular media on this planet even without producing contents. Airbnb, which does not have a hotel room, is recognized as the world's largest accommodations entity whereas Uber, even without a cab, is known to be the world's largest transportation service entity. These are platform industries that changed the daily lives of the modern people by identifying a business model based on information technology (IT) that did not exist in the past.
These days, IT companies are dominating the global industry. Apple, Google, Microsoft and Amazon rank first to fourth place for the market capitalization of global listed enterprises. On Wednesday (local time), French President Emmanuel Macron gathered some 50 CEOs of global IT corporations including Microsoft and Facebook and made bitter criticism saying "You should not take a free ride while excluding the public interest." This was a warning thrown when taking a picture with CEOs who participated at a luncheon event called "Tech for good" held at the Elysee Palace to promote investment. This was to urge proper obligation on resolving social problems such as inequality, climate change and fake news. Corporations immediately promised to invest 100 million dollars to non-profit project (Google), hire 1,400 people within two years (IBM) and to improve health insurance for drivers (Uber).
Global IT conglomerates started as a start-up and became a myth. The views toward them, however, are gradually changing. As issues such as avoidance of taxes, fake news and personal information breach emerged, they became subject to international criticism. The situation within Korea is not so different. Criticism is growing against Naver and Daum, which neglected opinion-rigging through comments. Dinosaur enterprises aggregated whopping power by enjoying the benefit of winner takes it all. It is about time to point out whether the wealth and power they have aggregated is being used properly.