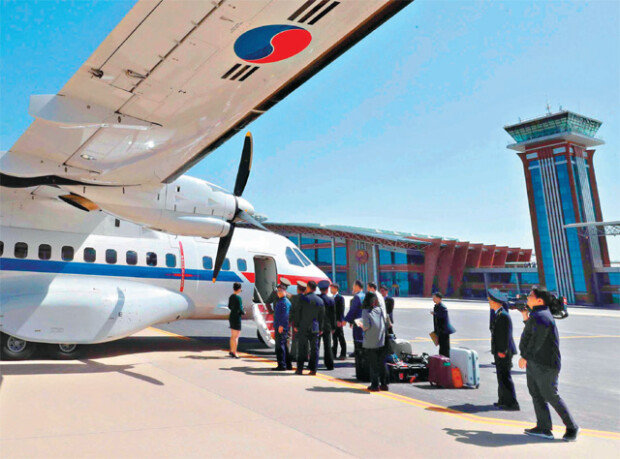 The South Korean Joint Journalist Team, which was formed to cover the closure of the nuclear testing site at Punggye-ri, North Korea, arrived at the adjacent city of Wonsan Wednesday afternoon and joined other foreign journalists who arrived a day earlier. The demolition of the site, North Korea's first action for denuclearization, is likely to take place on Thursday, as the reporters will have to travel some 437 kilometers from Wonsan by train, bus and on foot.
Eight South Korean journalists boarded on an Air Force plane (VCN-235) from the Seoul Airport Base in Seongnam, Gyeonggi Province at 12:30 p.m. on Wednesday and flew to Wonsan. The unexpected flight took place abruptly as North Korea, who refused to allow a chartered Air Koryo plane to fly into Wonsan, suddenly granted last-minute permission to enter the country. North Korea eventually kept its promise made by Kim Jong Un at the inter-Korean summit last month, but refused to accommodate the participation of field experts.
The international team of journalists from Korea, the United States, the United Kingdom, China and Russia, boarded a chartered train that provided board and lodging, and departed for the test site. The journey is expected to take 18 hours, reaching the Jaeduk Station by train in 12 hours, driving by car for another four hours and walking for two hours before finally arriving at the site at noon the following day. "Mobile phones and network devices were not allowed to ensure that articles or photos would not be transmitted immediately at the site," said CNN reporter Will Ripley. Unless the Korean Central Television, North Korea's broadcasting station, would report the news live, the destruction of the site is likely to be a recorded broadcast.
In-Chan Hwang hic@donga.com