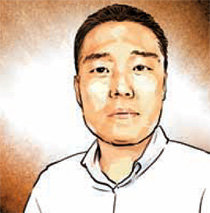 Crane truck driver Han Young-tak (46) pressed the accelerator of his Tuscany on the West Coast Highway on rainy Saturday. He passed a Ssangyong Korando on the first lane and blocked its way. His Tuscany was hit by the Korando and shoved two or three meters ahead. The Korando that crashed into a median strip and was still running from 1.5 meters ahead also stopped. Han got off his car and ran to the Korando, with little consideration for his own car. It was a well-intentioned accident to stop the car with an unconscious driver.
Some people clean up nails or steel pieces on the road for fear that they would damage tires of other cars. Their behavior is purely altruistic, because it is not their responsibility to do so. Especially those who save other people's lives are heroes in our daily lives. And they belittle their good deeds saying, "I just did what I had to do," or "I only thought of saving their life." But their courage is truly extraordinary.
An American social psychologist did an experiment on theology students at Princeton University by giving them an assignment to preach the theme of good Samaritans. He hired an actor and instructed him to fall on the ground so that students could see him on the way to the chapel. As a result, he found that the pressure of time was a deciding factor of good deeds. Sixty-three percent of students who had more time until their preach helped out the actor, but only 10 percent of those who were told they were late helped out the stranger. Even if they were on the way to preach the virtues of Samaritans, they turned a blind eye to a person in need in front of them.
What would I have done if I were the truck driver on that Saturday? Would I have stopped the car even if that meant damaging my car? A number of vehicles passed by the Korando that day. Some drivers honked the horn to wake up the driver or called 119. The world is beautiful because of those good people who helped out others even though they were in a hurry or had to take a loss.