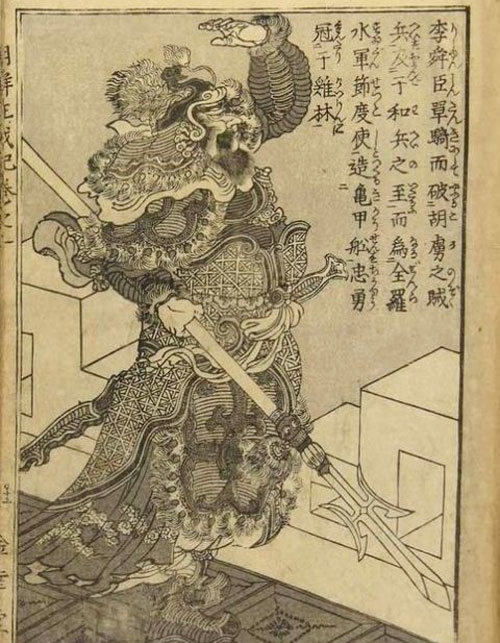 It has been revealed that the Imperial Japanese Nay during the Japanese Meiji period (1868-1912) taught about Adm. Yi Sun-shin, the most feared figure for them, during the Japanese Invasion of Korea in 1592.
According to the book "The Japanese and Yi Sun-shin" written by Sangmyung University Specially Appointed Professor Lee Jong-gak, Japanese Navy Lt. Com. Naganari Ogasawara described in detail about Adm. Yi Sun-shin in his textbook for navy officers "History of Japanese Empire's Sea Power." The book, which was published in 1902, wrote about the Japanese Invasion of Korea in 1592 over 24 pages.
Ogasawara described Gen. Yi as "a bold and extroverted man with a mathematical brain who made improvements in battlefield map, military base, and military strategies." He went on to write that "The stability in the Joseon Dynasty was possible due to Yi as he managed to win every battle with his strategies, for example using the tidal current to win the battle in Jindo (the Battle of Myeongryang)." Ogasawara highly appreciated Adm. Yi's ability by emphasizing that the Imperial Japanese Navy should study why it keeps losing against the naval forces of Joseon and learn from it.
There are other Japanese people who had respect for Adm. Yi. Gosei Seki, who came to Joseon in 1892 to work as a land surveyor, wrote a biography of Adm. Yi titled "Yi Sun-shin of Joseon" and compared Yi to Adm. Nelson, the greatest sea warrior in British history. A famous navy strategist Tetsutaro Sato (1866-1942) highly praised the Korean admiral in the book "Historical Tales of Japanese Naval Battles (1930)" by saying Yi is "the best among all navy admirals in the East and the West."
"The Japanese and Yi Sun-shin" also talks about the Japanese people Adm. Yi ever met and how he treated them. The case in point is the Japanese soldiers who surrendered to Joseon during the Japanese Invasion. There are 27 records, where Adm. Yi questioned them by himself or met them in his war diary Nanjung Ilgi. He ruthlessly executed Japanese soldiers who caused trouble but showed generosity by allowing them to play a traditional drama to relieve their nostalgia.
Jong-Yeob JO jjj@donga.com