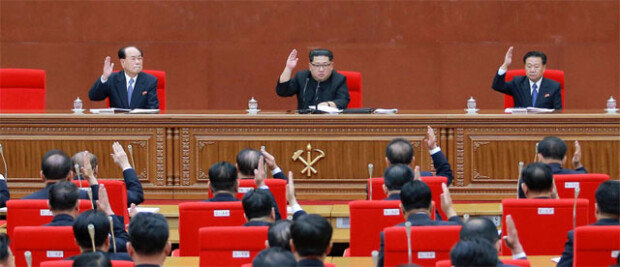 North Korean leader Kim Jong Un declared suspension of nuclear and intercontinental ballistic missile tests in a surprise move a week before an inter-Korean summit. Kim thus proclaimed that the North is shifting into economy-focused policy by declaring that "We have achieved victory in "byongjin," or simultaneous development of nuclear technology and economy, even though the completion of nuclear weapons that could reach the American mainland has not been verified while its economic situation deteriorated amid international sanctions.
The North's Rodong Sinmun reported on Saturday the outcome of the third full-member meeting of the Workers' Party's seventh Central Committee that took place on Friday. The daily said, "Comrade Kim Jong Un has proudly declared great victory in byongjin policy and presented a new strategic direction for the party." Through the decision adopted on the day, Pyongyang announced the shutdown of the northern nuclear test site, Pungye-ri Nuclear Test Site in Kilju County, as well as suspension of nuclear and ICBM tests effective on Saturday. Hence, the byongjin policy, Kim's hallmark since its adoption by the committee's full-member committee in March 2013, has come to an end five years and one month later.
About an hour after Kim's message was made public, U.S. President Donald Trump said, "This is very good news for North Korea and the World – big progress!," adding "Look forward to our Summit." Replying positively to Pyongyang's declaration to suspend further advancing of ICBM that could strike the U.S. mainland after Secretary of State nominee Mike Pompeo met with the North's Kim Jong Un early this month, President Trump reiterated that the North Korea-U.S. summit will still be useful.
However, a growing number of experts are also urging vigilance. Victor Cha, Korea chair at the Center for Strategic and International Studies, told an interview with U.S. online media Axios that "(The announcement) is not a denuclearization statement, it is a statement that DPRK [North Korea] can be a responsible nuclear weapons state."
In-Chan Hwang hic@donga.com · Yong Park parky@donga.com