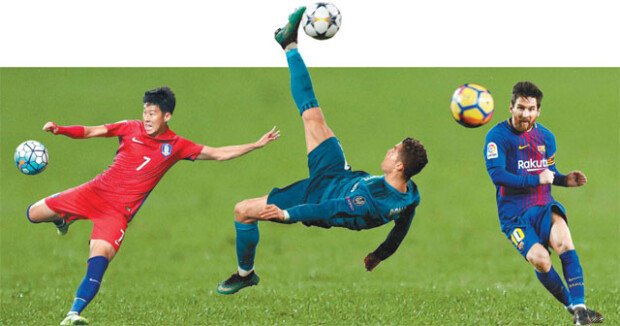 The International Center for Sports Studies (CIES) under the Federation of International Football Association recently announced a list of best dribblers based on players' performance from the season's opening to February in the five major European soccer leagues that are considered the best in the world. The study center scored players' performance by calculating the number of attempted dribbles and success rate (percent) per game (90 minutes) based on its self-developed algorithm.
Unlike the prevailing perception that Lionel Messi is the best dribbler, Eden Hazard ranked first. This outcome reflects difference in playing style between Messi, who plays an important role in creating chances while playing widely across the entire soccer field, and Hazard who specializes in straightforward penetration.
Likewise, the "numbers" failed to display the full picture of soccer, but give a unique perspective. CIES singled out the best eleven players (based on the 4-3-3 formation) in the 2018 World Cup Russia, which is about two months away, based on analysis conducted by using indicators developed by itself.
Son Heung-min (26) from Korea is one of the "Dream Trio" at the upcoming World Cup in Russia. This finding reflects the rankings of players by position, as analyzed by CIES based on records of players playing in the five European leagues over the past three months (December 26 – March 26).
The fact that Son proudly makes the list along with Cristiano Ronaldo and Messi, who are widely considered the world's best, is related to the fact that the highflying wingers in recent years are all left-footed. Of the "top five wingers" cited previously, only Son and Hakan Çalhanoğlu are right-footed players.
A growing trend in soccer tactics is to proactively use "scoring wingers." For this reason, the winger is mostly deployed in the opposite side of the foot that the player comfortably uses. For this reason, Tottenham Hotspur is deploying Son, a right-footed player, as left-side winger.
In the survey, Christian Eriksen (26) is the only Danish player in the top 10 list (ranked first as midfielder). Eriksen enabled Denmark to advance to the World Cup finals. Despite being a midfielder, Eriksen had 11 of the 20 goals that Denmark scored in the European qualifiers and two playoff matches, and thus spearheaded his country's advance to the World Cup finals. Denmark, which advanced to the finals for the first time in eight years due to his stellar effort, is aiming to advance to the round of 16 finalists, pinning hope on Eriksen anew.
Jae-Hyeng Kim monami@donga.com