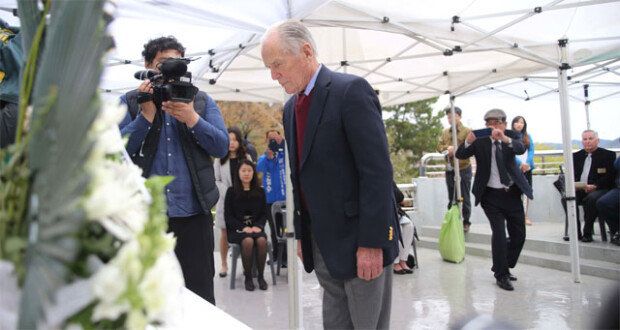 "Now that I've come here (South Korea) again, I'm reminded of the past (during the Hungnam Evacuation operation) and feel proud," said a gray-haired veteran from the United States. Despite his age reaching almost 90, the veteran was still maintaining a robust physique and a powerful voice. At 10:30 a.m. Friday, Burley Smith stood in front of a monument to the Hungnam Evacuation at the Historic Park of Geoje POW Camp in South Gyeongsang Province.
Smith was one of the sailors aboard the SS Meredith Victory that safely evacuated some 14,000 war refugees from the North Korean port of Hungnam, South Hamgyong Province, to Geoje Island during the Korean War as part of the Hungnam Evacuation operation in December 1950. His third visit to South Korea was accompanied by 12 others including his wife Barbara Hacker (73); daughter Ruth Clark (62); and the families of Korean War veterans such as Timothy Ryan (70) and Ellin Ace (71).
At the event, the U.S. and South Korea's national anthems were played, and Smith and other participants laid a wreath in order. Smith donated an American flag that had been hung at the U.S. Capitol and a flag of the city of his hometown Miami, and a senior official from the Patriots' and Veterans' Affairs Ministry presented him with a commemorative watch from President Moon Jae-in as a token of gratitude.
The U.S. veteran wrote a letter to President Moon in January, and received a reply from Moon in the following month. "If it had not been for the seamanship of fine sailors such as yourself, my parents could never have made it to Geoje Island and I would not be the person I am today," said President Moon. Smith is one of the three American crew members from the Korean War evacuation operation who are still alive.
Jeong-Hoon Kang manman@donga.com