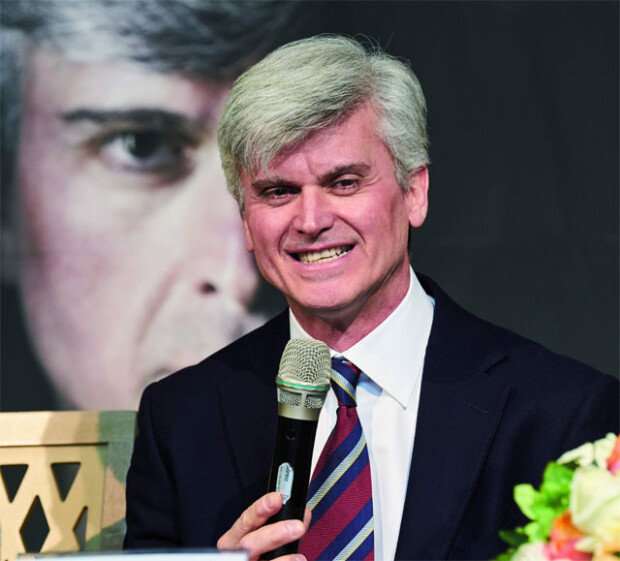 Massimo Zanetti from Italy has been appointed as the new art director and chief conductor of the Gyeonggi Philharmonic Orchestra. This is the first time a foreigner has been selected as the chief conductor of the orchestra, which has had eminent conductors such as Sung Shi-yeon, Gu Ja-beom, Geum Nan-sae, Yoo Kwang and Choi Seon-yong.
"We were talking with Zanetti about inviting him to our Virtuoso series, where we invite great foreign conductors for collaboration. And the discussion developed into having him as chief conductor of Gyeonggi Philharmonic Orchestra. He had much interest in orchestras in Asia," Gyeonggi Arts Center President Chung Jae-hoon said during a press conference held Monday at the Startup Campus in Pangyo, Gyeonggi Province. "I am sure that Zanetti is the right man to help the orchestra to be recognized around the world as he has strengths in the 19th century Italian repertoire."
Born in Milan, Italy, Zanetti worked with multiple orchestras, including the Konzerthausorchester Berlin, the Bamberg Symphony of Germany and the Czech Philharmonic, and has mostly conducted operas. "Riccardo Muti, whom I have respected since I was little and worked with at La Scala, conducted at the Gyeonggi Philharmonic Orchestra twice. I thought there would be something special about the orchestra if a fastidious man like Muti had worked with it twice. After listening to diverse opinions about the orchestra, I have decided to assume the position," the 56-year-old Italian conductor said. "I have looked at the list of repertoire the orchestra has played for the past 12 years. I will try to show everything we can, ranging from classical to post-romantic to modern music."
Zanetti, who will be officially inaugurated on September 1, will conduct the Gyeonggi Philharmonic Orchestra about 10 times a year. He is scheduled to meet with the audience for the first time in his inauguration concerts at the Gyeonggi Arts Center and the Seoul Arts Center on September 7 and 8, respectively. Originally, he was to conduct at these concerts as part of the "Virtuoso" series by the Gyeonggi Philharmonic Orchestra as a guest conductor. The list of music that will be played at the concerts includes Double Concerto in A minor by Brahms and Romeo and Juliet by Prokofiev. Zanetti's term will last two years until August 2020.
Min Kim kimmin@donga.com