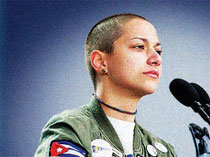 Oftentimes silence is much stronger than any oratory. A classic example was the 6-minute and 20-second speech by Emma Gonzalez, a high school senior who participated in a protest rally demanding gun control that took place in Washington D.C. on Saturday. Emma, a survivor of a mass shooting that took place at a high school in Florida last month, touched the heart of participants with long resonance of silence through her speech.
Emma started her speech, struggling to continue in tears. "Right into the ground, six feet deep, six minutes and 20 seconds with an AR-15 and my friend Carmen would never complain to me about piano practise. Aaron Feis would never call Keira, Miss Sunshine. Alex Schachter would never walk into school with his brother Ryan. Scott Beigel would never joke around with Cameron at camp. Helena Ramsay would never hang out after school with Max. Gina Montalto would never wave to her friend, Liam at lunch. Joaquin Oliver would never play basketball with Sam or Dylan. Alaina Petty would never, Cara Loughran would never, Chris Hixon would never, Luke Hoyer would never, Martin Duque Anguiano would never, Peter Wang would never, Alyssa Alhadeff would never, Jaime Guttenberg would never, Meadow Pollack would never," she called the names of 17 victims in the shooting.
The crowd also burst into tears as they saw Emma stand at the podium in silence, shedding tears. Then a timer went off. Emma resumed her talk to conclude by urging "Fight for your lives, before it's someone else's job." Former U.S. President Barack Obama, widely known as eloquent public speaker, also conveyed a resounding message through a moment of silence rather than a glaring event in May 2011 when he visited the site of 9/11 terrorist attack in New York after winning his first presidential election. After finishing the memorial ceremony speechless for 20 minutes there, he met with bereaved families to convey his condolences without broadcast cameras on.
Voices calling for gun control that would only face deaf ears are gaining momentum in American society. The rally dubbed "March for Our Lives" spearhead by surviving students from the Florida high school shooting took place in more than 800 locations across the United States on Saturday alone. The organizers estimated the number of participants in Washington alone at over 800,000. USA Today said if the estimate is accurate, it would constitute the biggest rally ever in U.S. history. Emma, an ordinary high school girl, was aware that silence could be more impactful than words in pleading for urgency of gun control. We wonder how much longer we have to wait until Korean politicians who resort to "uncontrolled verbal attacks" anytime will realize that they can truly touch the heart of voters only when they come to know the value of silence that is more powerful than oratory.
mskoh119@donga.com