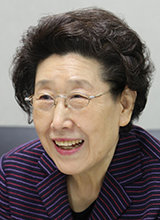 "Everyone suffers pain in their lives. I suffered from polio as a child and am now fighting Alzheimer's disease," said Whang Youn-dai, an adviser to the Korea Paralympics Committee. "But God has given us the strength to overcome them. It's a gift."
Whang will be the presenter to the "Whang Youn Dai Achievement Award" at the PyeongChang Paralympics, which is held in her home country for the first time in 30 years. At the press conference held Friday in Pyeongchang, she revealed that she is currently suffering from Alzheimer's disease. With the courage that helped her overcome her disability, she is now fighting against another pain.
"Now that I have the strength to overcome any adversities, I believe I can win this battle (against Alzheimer's) this time, too," the 80-year-old said. "I hope those athletes competing in the Paralympics will be an example to young people with disabilities."
She has trouble using her legs as she contracted polio at the age of three. She became the first female doctor with polio in Korea. The Whang Youn Dai Achievement Award was established by the International Paralympic Committee (IPC) in 1988 when she donated 2 million won to the 1988 Seoul Paralympics as part of her efforts that had been going on from her 20s to fight for the right of the disadvantaged.
This award is given to one male and one female, who best practice the spirit of the Paralympic values and challenge. The award ceremony will be held at the closing ceremony of the PyeongChang Winter Paralympics on Sunday.
Yun-Cheol Jeong trigger@donga.com