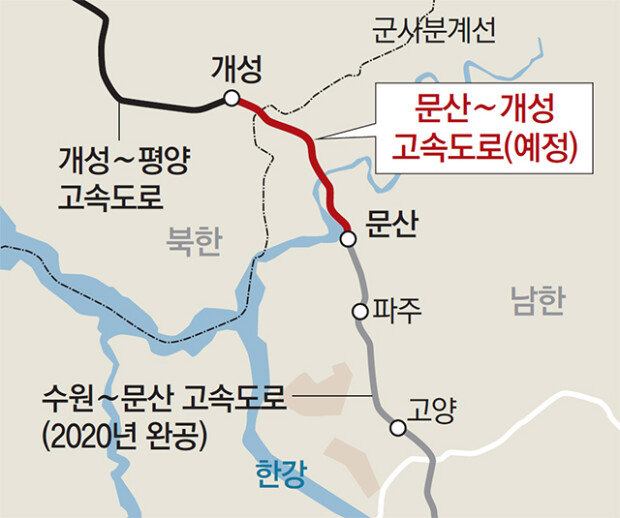 Korea Expressway Corp. is forming an organization exclusively for construction of a road linking South and North Korean border areas. Construction of a highway linking Seoul and Pyongyang is the top priority project under consideration by the state-run company.
According to the Land, Infrastructure and Transport Ministry and Korea Expressway Corp. on Wednesday, the state-run company will form a taskforce for a project to build roads linking South and North Korea in the first half of the year after the inter-Korean summit scheduled next month.
"If the taskforce is formed, the ministry will prepare for a preliminary feasibility study for the construction of Munsan-Kaesong Expressway that was shelved after the Park Geun-hye administration had sought to push for," a ministry source said.
Munsan-Kaesong Expressway is a road connecting Naepo Interchange (junction) in the township of Munsan, Paju in the South and Kaesong in the North via an area near the truce village of Panmunjom. The expressway will be linked with Suwon-Munsan Expressway slated for completion in 2020 in the South and Kaesong-Pyongyang Expressway that already exists in the North.
Since Suwon-Munsan Expressway passes through Seoul, once Munsan-Kaesong Expressway is completed, it will directly link Seoul and Pyongyang. The section of the area where the new road will be constructed is situated 11.8 kilometers to the south of the Southern Limit Line, and the project will cost an estimated 500 billion won (470 million U.S. dollars) including expenses for land purchase and construction.
"Depending on the situation in inter-Korean relations after the summit, Korea Expressway Corp.'s taskforce will be promoted to become an official organization, and it will be able to study anew a project to reconnect National Route 31 (Yanggu, Gangwon Province in the South – Kumgang in the North) that was sought in the past and other projects as well," the ministry official said.
Ho-Sung Cheon thousand@donga.com