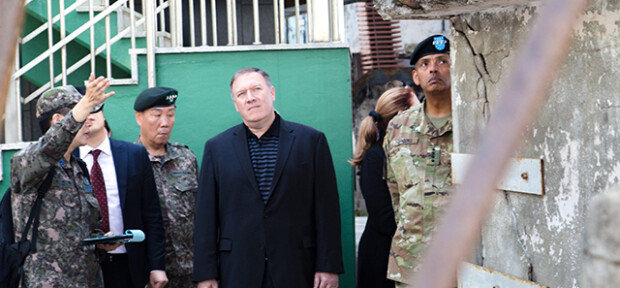 U.S. President Donald Trump's decision of replacing Rex Tillerson some two months prior to North Korea–U.S. summit on Tuesday appears to imply that Mr. Trump is buckling down to prepare for the summit with a new lineup as the door for the negotiation is now opened. This is a plan to negotiate denuclearization with North Korea by having CIA Director Mike Pompeo, who is known for his hawkish foreign policy and "Trump friendly," at the front of the diplomatic line.
"This dramatic realignment of the top U.S. diplomatic office takes place just weeks before what may be the United States' most important foreign policy event in years," analyzed The Washington Post. "The two events are almost certainly linked."
Tillerson, who emphasized diplomatic solutions, was frequently at odds with Trump, who is ready for military options when it comes to North Korea policies. "I didn't discuss it much with Tillerson. I made that decision myself," said President Trump in relation to accepting North Korea-U.S. dialogue. It seems that Mr. Trump will bring up his bargaining power and accomplish denuclearization by appointing Pompeo, whom he believes to be his confidant.
Former Secretary of State Tillerson, who was vocally supportive of talks with North Korea, publicly brought up the "four No's," including not seeking regime change, not seeking regime collapse, not seeking accelerated reunion of the peninsula or bringing U.S. forces north of the demilitarized zone. On the other hand, Mr. Pompeo, an appointee for Secretary of State, is well known for his hawkish policies towards the North, even claimed regime change.
"We will make no concessions before North Korea talks," Pompeo says, taking a rough stance. The New York Times prospected that in light of Pompeo's history and recent remarks, he will be in line with the hawks of the Trump administration, who have a tough stance against North Korea and Iran.
Some anticipate that Pompeo, unlike Tillerson, who was disconnected with career diplomats at the Department of State, will be able to gain momentum at work as well as exercise flexibility as he experienced the military, congress, and intelligence institution.
The West Point graduate served in the U.S. House of Representatives for six years. Mr. Pompeo is an "adaptor" who has an outstanding ability to adapt, says Patrick Cronin, senior director of the Asia-Pacific Security Program at the Center for a New American Society.
Yong Park parky@donga.com