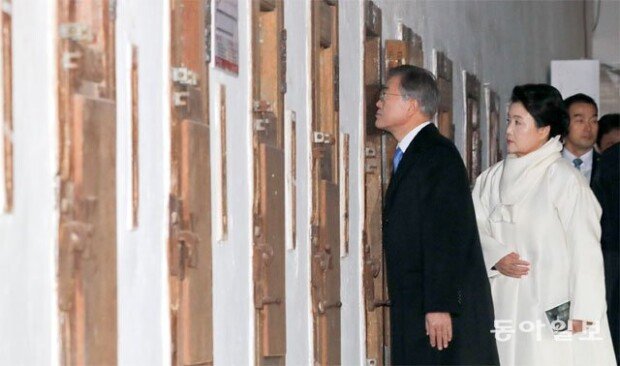 President Moon Jae-in has urged Japan to cease its territorial claim to South Korea's eastern-most island of Dokdo, stressing that Tokyo's denial of the fact is "the same as its refusal to reflect on its imperial invasion (of Korea)."
He made the remarks in a speech to a ceremony at a colonial Seodaemun Prison in Seoul marking the anniversary of the 1919 March 1 Movement against Japan's colonial rule. "Dokdo is the land that was first occupied in the process of Japan's invasion of Korea," the president stressed. It was the first time President Moon mentioned Japan's forceful occupation of the island since he took office in May last year.
He also said that the Japanese government should not say the resolution of the World War II sex slavery issue is over. "Inhumane violation of human rights during war cannot be covered by saying it is over," he said, taking a direct shot at Japan's continued history provocations of laying its territorial claim on Dokdo in state-published textbooks while asserting that a December 2015 bilateral agreement "finally and irreversibly" settled the so-called "comfort women" issue. The president reportedly ordered his aides to include the Dokdo and sex slavery issues into his speech.
Japan's Chief Cabinet Secretary Yoshihide Suga described Moon's comments as "extremely regrettable" and "unacceptable," saying that the speech ran against the 2015 agreement. Suga added Tokyo would convey its position to Seoul through a diplomatic channel and lodge a complaint with the South Korean government about the speech.
weappon@donga.com