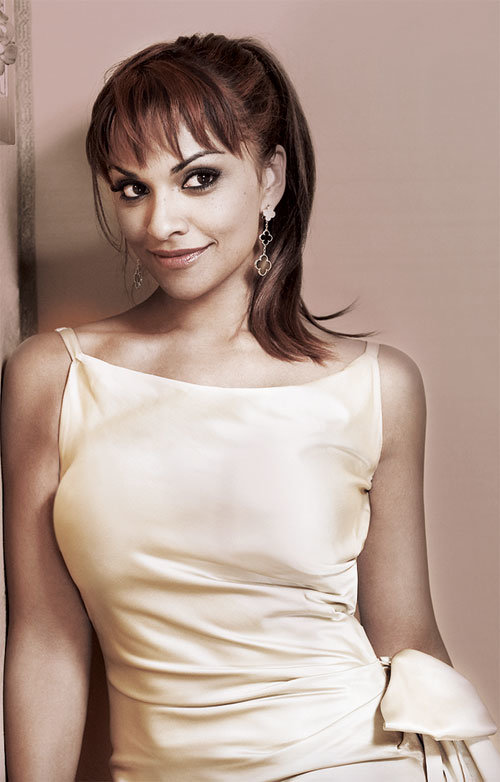 Danielle de Niese, an Australian-American lyric soprano, is praised as "a diva for the 21st century." After watching her concert, this reporter read her written answers to my questions. The answers that carried vigor, positivism and expectations between the lines just resembled her performance, making me convinced about foreign media's portrayal of her as dominating the audience with her unique liveliness.
She will have a first performance in Korea called "From Mozart to Broadway" with The Lucerne Festival Strings at the LG Arts Center in southern Seoul at 8:00 p.m. on March 15. She will perform a hodgepodge of melodies ranging from Mozart's arias and "Una voce poco fa" (A Voice a Little While Ago) from Rossini's The Barber of Seville, Overture to "West Side Story" and "Peter Pan" from Leonard Bernstein's musicals.
Born in Australia to parents of Sri Lankan and Dutch heritage, she won in an Australian TV audition show by signing Whitney Houston's songs at nine years of age. After immigrating to the United States, she won an Emmy Award at the age of 16 as children's TV show host. She covers various genres including opera, musical, TV and films.
She said that her essence is the stage, noting the pleasure of going beyond her limits is the same whether she is performing an opera, a musical or a TV show. She said she expects to share her passion for music with more people through various genres.
She is currently the most interested in musicals, which she said were rapidly becoming "classics." She also said she has to focus on a genre that befits her voice as it changes over time, adding she is happy because her voice is growing.
She has been only charging ahead since her debut 30 years ago. She went on stage until the end of the second trimester of her pregnancy and right after giving birth. She still spends most of her time getting ready to charge ahead.
She said she has never felt she arrived somewhere, adding she makes endless efforts to become better. She said she is proud to have the courage to stop for a while thanks to her son.
She said she has many Korean friends and that she seemed to have been attracted to them because they were from a similar cultural bloc (Sri Lanka). She expressed hopes for learning more about Korea through the upcoming show.
Seol Lee snow@donga.com