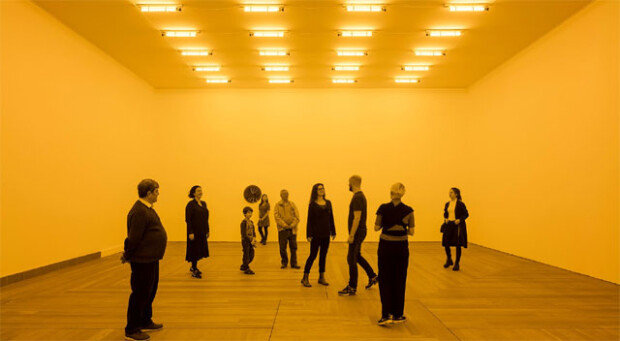 What was behind the monochromatic painting fever that spread a few years ago in Korea? The Kukje Gallery, which mostly exhibits monochromatic paintings, saw its revenue plunge by half to 41 billion won last year from 112 billion won in 2015. Monochromatic paintings are not popular in auction anymore, reducing the total contract price. Many people still see monochromatic paintings as "safe asset" but voices warning about their "bubble" are rising as well.
A recently held exhibition at the National Gallery in London titled, "Monochrome: Painting in Black and White" reflected the situation well. The exhibition, which was held from October last year and hosted by the National Gallery in Trafalgar Square, located in the heart of London, drew international attention. It was a diachronic exhibition that dealt with monochromatic paintings ranging from stained glass in the 14th century to installation arts in the 21st century. It featured prominent artists, including Marlene Dumas of South Africa, Chuck Close of the United States and Bridget Riley of England. Surprisingly, there was no single Korean painting.
What the curator Lelia Packer, who prepared for the exhibition for four years, said was even more surprising. In an interview with The Dong-A Ilbo, she said, "I am sorry but I have not heard of Korean monochrome" Her answer was the same after this reporter mentioned some names of Korean artists. Packer is an expert in the area who wrote her doctoral thesis in monochrome at New York University. "Some commercial galleries might be familiar with Korean monochrome but in the academia it is not well-known," another official said.
Some pointed out that Korean monochrome cannot be seen as an independent trend. Richard Vine, editor of the Art in America, said monochrome can be seen as a belated modernism and the Korean art world should actively wipe out the notion. "We shed light on individual artists such as Jasper Jones but there has not been an exhibition dealing with the art technique itself," Packer said. "The purpose of this exhibition is to show the long-time tradition of monochrome with as large-scale as possible."
An art expert said, although belated, we should dispassionately review Korean monochrome. "People visit Paris to see Impressionist paintings. In order for Korean monochrome to be acknowledged internationally, we should seek to make our long-time tradition, which started from ink-and-wash painting, into a new area of aesthetics," the expert said. "It is inappropriate to deceive domestic collectors, who are not well-versed in how Korean monochrome is viewed outside Korea."
Min Kim kimmin@donga.com