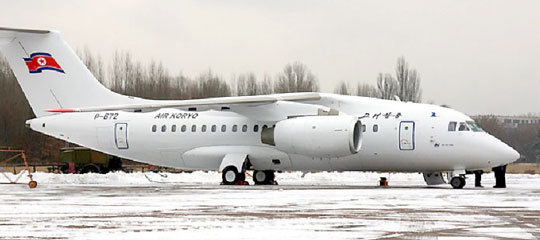 The private plane that will be carrying the North Korean delegation, including Kim Yo Jong, is likely to be AN-148 built by the Ukrainian Antonov company. This model, which is priced at about 30 billion won per plane, is intended for short-haul air routes. It has become known that the Kim family uses this jet frequently as shown in the images of Kim Jong Un personally flying the jet released in the past.
But controversy may build over the use of this plane by senior-level delegation of North Korea since the jet is known to be acquired in 2015 by Air Koryo, which is on the list of the U.S. sanctions on North Korea. What is written on the outside of the plane is "Air Koryo" along with the North Korean flag beside it. "Prior consultation is necessary if the North Korean delegation is to use a plane operated by Air Koryo so as not to create a controversy over permitting a banned North Korean plane to operate," said a South Korean Unification Ministry official.
There are also speculations that the delegation will use its official jet "Chammae One." This is a remodeled version of the IL-62 built by Ilyushin of the Soviet Union that once carried the "three heavyweights" of North Korea, such as Choe Ryong Hae, to the 2014 Incheon Asian Games. The Ilyushin IL-62, which was introduced in North Korea in 1986, is older than the AN-148.
The possibility of using "Chammae One" is 50 percent due to safety reasons. The plane turned back to North Korea due to a malfunctioning engine in November 2014, when it was carrying Choe Ryong Hae to Moscow. China banned the plane from flying over its airspace in 2013.
Jeong-Soo Hong hong@donga.com