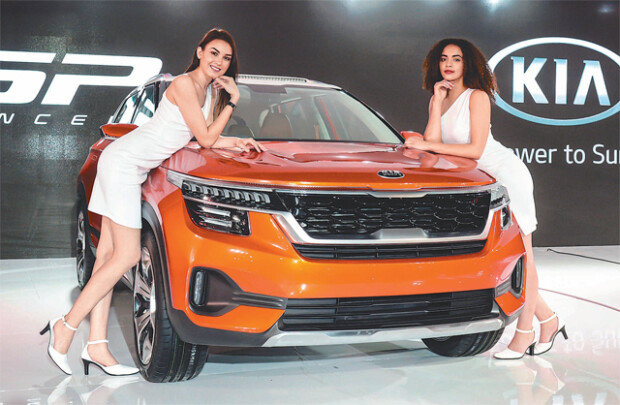 Kia Motors Corp. plans to make a foray into the Indian market with a new compact sport utility vehicle (SUV) concept.
The South Korean carmaker showcased its SP Concept compact SUV at the Auto Expo 2018 in New Delhi. Kia developed the new SP Concept for a strategic compact SUV model targeting younger Indian consumers in their 20s and 30s as part of the carmaker's plan to make a foray into the Indian market.
Kia has been unable to export its vehicles to India due to its high tariff barrier of nearly 60 percent. Finally, the company decided to produce cars locally in India and signed a contract to build a 1.1 billion U.S. dollar production plant in India last year. Kia aims to complete the plant capable of producing 300,000 vehicles a year in the second half of next year.
The Indian car market has been growing rapidly. Last year, the country became the world's third-largest car market with some 3.7 million vehicles sold, edging Germany where 3.47 million cars were sold. With a vehicle ownership ratio of just 32 per 1,000 people, the Indian market is assessed to have a great growth potential.
Kia plans to promote the compact SUV as its strategic model designed for India because small SUVs emerged as the best-selling car model in India in recent years. In 2016 and 2017, sales of small SUVs reached 481,000 units and 584,000 units, respectively, to become the best-selling vehicle segment for two consecutive years. Kia projects that some 600 million Indians will be financially capable of purchasing vehicles from 2020.
bjk@donga.com