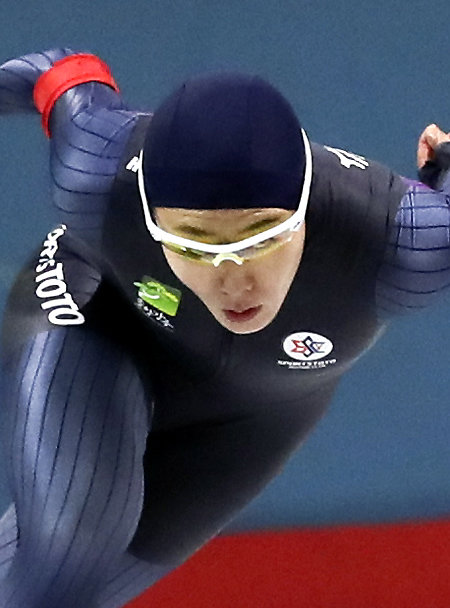 South Korea's speed skating empress Lee Sang-hwa is aiming for a three-peat at PyeongChang. Lee won the gold medal Sunday at the Frillensee Cup at Eisstadion Inzell in Germany with a time of 37.18 seconds, beating Canada's Marsha Hudey and Heather McLean, who posted 37.75 seconds and 38.23 seconds, respectively.
It was a B-list event, but the result means more than that. "Lee has been training in Germany to keep herself in good condition and prepare for the PyeongChang Olympics. She participated in the Frillensee Cup as a final check. It was a great record considering the ice conditions at the venue," said a Korea Skating Union official, adding that Lee participated in the event as only a part of her training.
Experts say that Lee is likely to win the gold medal in the Olympics, edging out her rival, Kodaira Nao of Japan, even though Kodaira won all seven races in the ISU World Cup speed skating season.
Lee has been training in Germany since December 22 with the Canadian national speed skating team and coach Kevin Crockett. She will return to South Korea on Monday and check into the athlete's village in Gangneung on Tuesday.
Hong-Gu Kang windup@donga.com