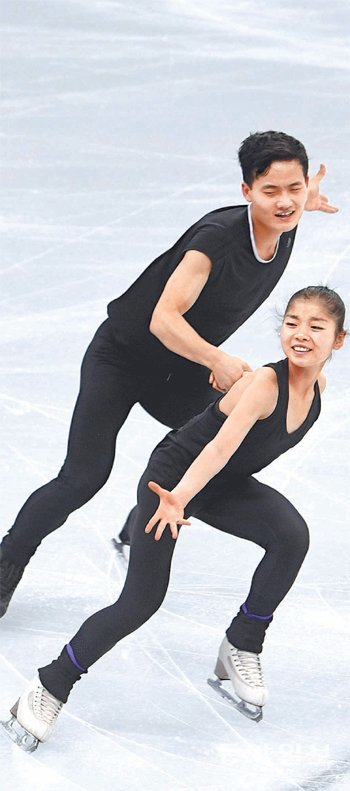 The North Korean figure skating duo of Ryom Tae-ok and Kim Ju-sik hit the ice in training clothes with the North Korean flag in the chest at the Gangneung Ice Arena. After a brief warmup, Ryom and Kim gradually increased the intensity of the practice, performing lifts and the death spiral (a technique that a male skater holds his partner's hand as she circles around with her body nearly parallel to the ice). The two had smiles on their face throughout the training.
Ryom and Kim were the first of the North Korean delegation that had earlier checked in to the Gangneung Olympic Village to begin a 30-minute-long training starting at 9 a.m. Friday. Meanwhile, North Korean short track speed skaters skipped their morning practice scheduled to be held at Gangneung Youngdong University's gymnasium at 8 a.m. on the same day.
The duo did not attempt any advanced techniques during the session while focusing on steps and sequences, possibly to give themselves some time to accustom to a new ice rink. Still, they drew muted appreciation from volunteers at the arena with lifts later in the training. Coach Kim Hyun-seon and two staff members joined their training.
Ryom and Kim are known for the most accomplished athletes with the highest possibility of winning a medal among the North Korean athletes participating in the PyeongChang Winter Olympics. Ryom, who had a bright smile on her face upon arrival in Gangneung Thursday, also had the same smile when leaving the arena.
Hong-Gu Kang windup@donga.com