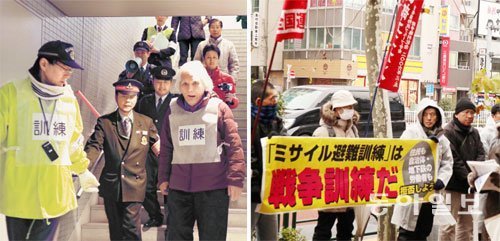 "A missile has been launched, a missile has been launched. A missile is likely to land in this region. Those who are outside, please evacuate to nearby buildings or underground passages and turn on the TV or radio."
At 10 a.m. in Bunkyo Ward near Tokyo Dome, right after the warning siren, a mechanical sounding J-ALERT message, or the Japan's nationwide emergency warning system, was announced through loudspeakers. It was the first drill held in a big city, the Japanese capital city of Tokyo, to prepare for a possible ballistic missile attack by North Korea. The evacuation drill was jointly organized by Japanese Cabinet Secretariat, fire department, Tokyo Metropolitan Government and Bunkyo Ward.
As a siren sounded, hundreds of people in Tokyo who were outside hurried to flee to subway stations such as Korakuen and Kasuga stations or nearby buildings. Some 150 employees working at the amusement park were also taken to inside buildings.
Participants were informed of a missile launch through the J-ALERT and promptly evacuated into subway stations or buildings simultaneously in a 10-minute drill. About 260 people including residents who were chosen in advance and corporate officials took part in.
Tokyo's first drill was conducted in a safe and orderly fashion, but not everyone was in favor of having disaster exercises. A group of protesters gathered near Tokyo Dome, one of the drill sites, 40 minutes before the waring sound for a rally, holding up placards reading: "The missile drill is a practice for war. Residents, local governments and subway workers should reject it."
An evacuation drill in the metropolitan area has never been conducted in Japan due to criticism of its creating fear and concerns over possible impact on traffic. The Japanese government believed Monday's drill was necessary to prepare people for emergencies in a big city, which is regarded as an easy target of a missile attack, reported Japanese media.
Young-A Soh sya@donga.com