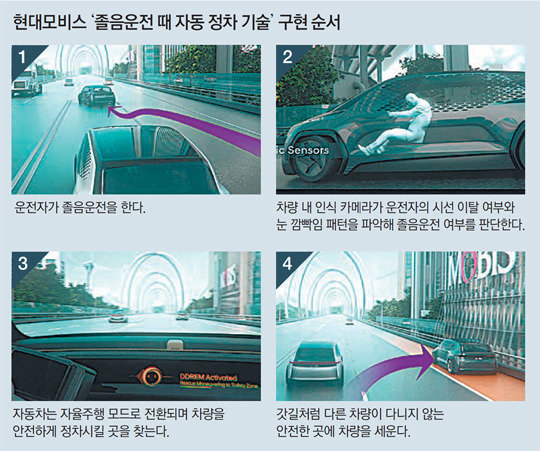 At CES 2018, to be held in Las Vegas from January 9 to 12, 2018, consumers will be able to experience cutting-edge motor technology, where cars automatically pull over when driver nods off, or control individual car functions and home appliance using sound recognition.
Hyundai Mobis announced Thursday that it would reveal its Departed Driver Rescue and Exit Maneuver (DDREM) technology concept at the show. The technology is meant for use when drivers can no longer control a vehicle, which is when the car automatically switches to autonomous driving mode and transports the driver to a safe location. As the name suggests, DDREM refers to rescuing drivers who are in a condition unable to drive.
A camera is installed in the car to monitor whether the driver's eyes continue to focus on the road or frequently closes his/her eyes. The vehicle's movements are also closely monitored. The camera in the front observes whether the car departs the lane. If the driver is confirmed to be drowsy driving, the car switches to autonomous mode and searches for a safe location where it can pull over. In highway situations in Korea, that would be side roads or resting area. DDREM is based on a full autonomous driving technology that enables automobiles to respond to road conditions on their own.
Hyundai Mobis conducted its DDREM technology test at its driving test center in October. The company will test the technology on roads next year, with the goal to go commercial by 2021.
"Hyundai Mobis is focusing on developing self-driving systems that puts safety first, ultimately aiming to dramatically reduce the number of traffic accidents," said David Agnew, the director of advanced engineering at Hyundai Mobis North America, in charge of the development.
Woo-Shin Han hanwshin@donga.com