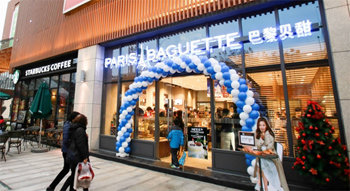 Paris Baguette, a top Korean bakery franchise, has opened its 200th overseas branch after 11 years since it first entered the global market.
The SPC Group said on Monday that a launching event was held at its 200th Paris Baguette store in Shanghai, China. The bakery chain opened its first store outside of Korea in Gubei, Shanghai, back in 2004. It now runs 139 shops across China, followed by 45 stores in the U.S., eight in Vietnam, and six in Singapore.
The SPC Group plans to accelerate its foreign business by expanding franchising rather than directly managing the stores. Currently, only 23 stores in China are operated by individual owners. The group expects to franchise out 100 stores in America and China within next year.
An executive at SPC said that their goal is to have more than 2,000 Paris Baguette branches in the U.S. and China by 2030. The number of the bakery is around 3,300 in Korea.
jmpark@donga.com