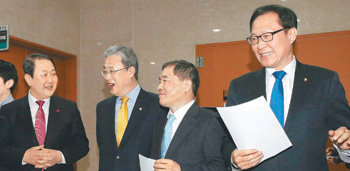 Three lawmakers of the main opposition New Politics Alliance for Democracy (NPAD) quit their party on Thursday to join the party`s former leader Ahn Chul-soo who bolted out of it four days earlier.
"Today`s NPAD has no chance to win in the parliamentary elections (in April 2016) and presidential election (in 2017)," claimed Representatives Moon Byung-ho, Yoo Sung-yop, and Hwang Ju-hong. They also directly criticized the NPAD`s incumbent chairman, Moon Jae-in, for "looking away from the path to victory" and "being blinded by his self-righteousness and factional hegemony." Moon Byung-ho was the chief of staff for Ahn when the latter was co-chairman of the opposition party. Yoo and Hwang, each head of the NPAD`s North Jeolla Provincial party and South Jeolla Provincial party committee, respectively, are spearheading an anti-Moon Jae-in faction.
The three incumbent lawmakers were joined by some 2,000 NPAD members, including those close to Ahn, also quit the party.
Although Moon Byung-ho claimed that at least 20 lawmakers will bolt out of the NPAD around the end of this year to create a floor negotiation group within the National Assembly. However, no other lawmakers followed suit after the three lawmakers quit the party. It is non-mainstream faction`s strategy to stay in the party and continue to put pressure on the NPAD chief`s resignation. The result of the party`s nomination of candidates for the parliamentary elections will likely be the watershed for a quitting rush at the year`s end.
NPAD floor leader Lee Jong-kul, who has virtually been boycotting his party duty, told reporters that it was "imperative" for the party chief to step down and form an emergency leadership committee. After Moon urged Lee to attend the party`s Supreme Council meeting, the floor leader said, "I will not do so if (Moon`s) request was to my contribution to the party`s split with him at the center."
alwaysj@donga.com