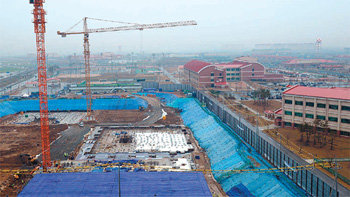 The US Army Garrison in Yongsan and the 2nd Infantry Division in northern Gyeonggi (which is one of the main units) will relocate to Pyeongtaek in 2017. This change of schedule delays the plan for one year. The ROK-US Combined Forces Command (CFC) in Yongsan and the 210th Field Artillery Brigade in Dongducheon will remain until mid-2020 when the wartime operational control (OPCON) is transferred in accordance with the mutual consent.
"We have to postpone the schedule as contract companies including Keangnam Enterprises went bankrupt. Relocation of the Yongsan Garrison and the 2nd Infantry Division will complete by the end of 2017," said Kim Ki-soo, the director of the relocation project, at a press interview on last Thursday at the 8th US Army headquarters, which is under construction in Camp Humphreys in Pyeongtaek. "The relocation is taking a longer time than we expected as the relocation of a military base is not as easy as simply moving things," said Lt. Gen. Bernard Champoux of the 8th U.S. Army. "It is a complex work because we have to keep close watch and maintain combat readiness at the same time."
The Pyeongtaek Base will not have the ROK-US CFC as the base was built with the pre-condition that Korea gains the OPCON. The US Forces Korea (USFK) headquarters will take the place instead. The ROK-US CFC will remain in Yongsan until the OPCON transfer is complete. So will the 210th Field Artillery Brigade, which is an important unit to deal with North Korea`s multiple rocket launchers. "Force employment will be more efficient as the base has many facilities such as railways that will help troops move faster in case of emergency. Integration of different units in one base will also contribute to more effective force employment," Kim explained. "Even though the main units of the USFK go south past the Han River, the strong deterrent force against North Korea will be the same."
The construction site of the Pyeongtaek Base was busy on Thursday with workers and equipment despite the rainy weather. The construction progress is at about 86 percent. This relocation project is basically to extend the area of Camp Humphreys and to gather the USFK dispatched in different areas including Yongsan, Uijeongbu, and Dongducheon. The name of the area will also change from "Camp Humphreys" to "Garrison Humphreys." This new base will be the largest single U.S. base ever.
The Pyeongtaek Base has an area of 14,677,000 square meters, which is five and a half times bigger than Yeouido. The 8th US Army headquarters and subordinate units will occupy the base, which will contain 513 buildings including various training camps and accommodations. The USFK will integrate bases spread in 91 sectors into 49 sectors in cities including Pyeongtaek and Daegu. On last Thursday, the media broadcast inside of each building of the 8th U.S. Army and family apartments in the base for the first time.
neone@donga.com