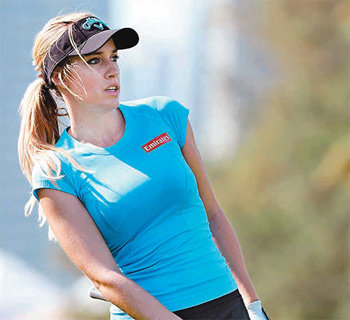 She has 480,000 followers in her Instagram. A video of her that she uploaded on YouTube has over 1.5 million views. Does she sound like a famous celebrity? This sensational person is American professional golfer Paige Spiranac (22, photo), which a U.S. magazine describes her as "the hottest female golfer on earth." The golf society, however, seems to have a problem with Spiranac who has electrified netizens with pictures of her in low-cut or tight dresses.
Spiranac has been invited to the Omega Dubai Ladies Masters that started on Wednesday in Dubai, the UAE. This tournament is her first stage as a professional golfer since her debut in August. The total prize money of this tournament is 500,000 euros (approx. 548,099 U.S. dollars), the fourth highest among the Ladies European Tour events. What makes the golf society unhappy is that Spiranac, being unlisted in the world ranking, made it to such a big stage by taking advantage of her appearance while there are many other more competent golfers. Despite the criticism, the host organization has been presenting Spiranac as a model in advertisements.
The sensational golfer finished the first round with one birdie, four bogies, and one double-bogie, shooting 77 at 5 over. She shared the 94th place among 108. "I was invited here and wanted to prove it was for reasons other than just my social media," the 22-year-old golfer said. "I wish they could see that I`m working as hard as I can. I may make it, I may not make it. But I`m just trying to focus on what I need to do to get to the next level and trying not to focus on what they say."
kjs0123@donga.com