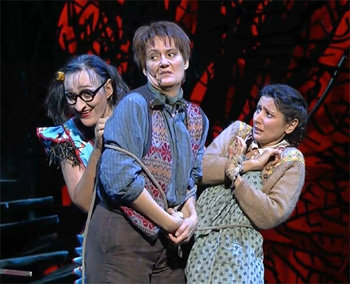 I recently watched Engelbert Humperdinck`s opera "Hansel and Gretel" at a TV program, which was performed by Vienna State Opera. Since it is a family opera frequently performed in year-end holiday season, "Hansel and Gretel" is likely to be played often this winter.
This opera`s story is somewhat different from that of the Grimm brothers Wilhelm and Jacob. In Grimm`s story, Hansel takes a slice of bread and leaves a trail of bread crumbs to follow home, but the opera goes without that episode and there is no bad stepmother who deserts her stepchildren. This is similar to Gioacchino Antonio Rossini`s opera "Cinderella" that goes without crystal shoes and stepmother. In the 18th and 19th centuries when publishing business wasn`t invigorated and the importance of standardized versions wasn`t emphasized much, famous fairytales and novels have been made into various editions.
However, there is a claim that is in fact shocking about the story of "Hansel and Gretel." In 1647, Hans Metzler (nicknamed Hansel) and Gretel Metzler kill Katarina, a bread making woman living in woods. Hans had asked Katarina to marry him to obtain recipe for making tasty cookies, but he sued the woman as a witch as he was rejected. Acquitted and released, Katarina hid in woods, but Gretel found her and murdered her.
Hans Traxler (pen name George Ossegg), a teacher in Germany in early 20th century, looked closely and found out this record. This scary story was merely known to people as a story that Hans and Gretel killed a witch, and after being orally transmitted the story was adapted into a fairytale.
Humperdinck`s opera "Hansel and Gretel" will be performed at Seongnam Art Center Ensemble Theater from December 19 to December 27. It is a masterpiece with orchestral music that goes beyond being an opera for families based on a fairy tale. People coming to see it can ponder on the truth behind the scenes and feel sympathy for witch Katrina who may have been sacrificed as Traxler analyzed.
gustav@donga.com