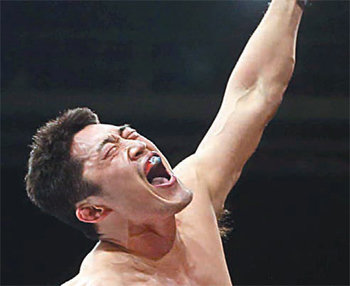 Kim Dong-hyun, (34, Team M.A.D., photo) the 7th ranked welterweight, has overwhelmed his opponent in the first UFC competition held in Korea. His strong desire for the championship title was evident.
Kim defeated American fighter Dominic Waters (26) in the first round by TKO in a welterweight match of "UFC Fight Night in Seoul" held on last Saturday. "I heard that there is a good chance that another competition will take place in Seoul next year," Kim said after his victory. "I want to win the competition and obtain a championship title for my fans."
Kim has predicted that he would meet Demian Maia (38, Brazil), the 6th ranked in UFC, on his way to the final stage. "He is the easiest opponent among the top 10 fighters, and I lost to him in 2012 due to my injured rib," he said. "I want to fight him again before I challenge for the championship."
Kim is preparing a new technique to become the next champion. This is the same technique that he used against Waters; grappling and knocking down the opponent and throwing a series of blows on him. He used to unleash a flurry of kicks and blows to present thrilling matches, but now he has changed his plan to utilize his strengths, which are various ground skills. Kim has trained hard to improve his attack skills, but his ground skills are still effective due to his judo training since his childhood.
"I am so confident in my ground skills that I can tell how strong a man is simply by shaking his hand," said Kim with confidence. "It used to be very exhausting to flip my opponent to the floor but now I have learned how to do it without having to use too much energy. Some fighters tend to rely only on kicks and blows for a quick victory. I will put them down with my ground skills."
elegant@donga.com