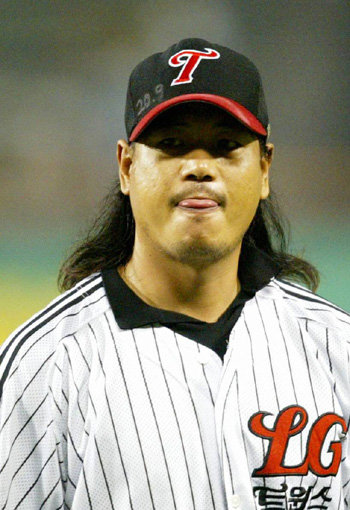 There is a legendary pitcher who was widely known as "eternal flame on the mound; the heart of the LG Twins" among Twins fans. Fans would also call him "wild horse" since he had long waving hair that looked like a horse's mane, and always seen wearing short-sleeved uniform even on cold days. He is set to wear the striped Twins uniform again in 11 years.
"Lee Sang-hoon (44), pitching coach of the Doosan Bears, has agreed to join our team," an LG Twins source said on Sunday. "Since he still has remaining contract period to serve at Doosan, he has not signed a contract with us yet, but his recruitment has effectively been confirmed."
Lee joined LG in 1993 after graduating from Korea University. He had 60 wins, 31 losses, 47 saves, and a 2.56 ERA for LG through 1997. Lee was the winning pitcher of LG in 1994 when the team secured the Korean Series title in the fourth game of the series. Lee moved to the Junichi Dragons of the Japanese pro baseball in 1998, and later to the Boston Red Sox of the U.S. Major League baseball before moving back to LG in 2002. However, Due to conflict with then LG coach Lee Soon-cheol, however, he was traded to the SK Wyverns in January 2004, and declared retirement five months later.
LG fans had asked the team to recruit Lee as coach whenever they had a chance, and it is a dream come true for the fans in more than 10 years. "We`ve recognized his ability to train and produce talented young pitchers at Doosan," the LG Twins source said.
kini@donga.com