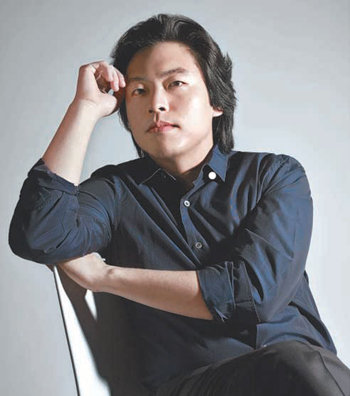 Pianist Kim Sun-wook (27) has released his first solo album through Accentus, a German label, which includes two Beethoven piano sonatas, Op.53 Waldstein and Op.106 Hammerklavier. The album was recorded in June at Jesus Christ Church in Berlin, which is a well-known recording site. Famous conductor Herbert von Karajan and Berlin Philharmonic Orchestra also have done their recordings there.
Kim gave a complete cycle of Beethoven's sonatas at Seoul LG Art Center in 2012 and 2013. "The two sonatas in the album are the ones I have played the most on stages, and those I can entirely perform with my own style," he said.
His Waldstein performance is as outstanding as that of renowned maestros. From the beginning of the first theme, he seems to have perfectly reproduced what Beethoven had intended by creating completely different implications and effects in each part without using special techniques.
"I focused on the uniqueness of this music. Beethoven's sonatas were extremely fresh from a contemporary point of view," Kim said. "The structure and development of the music is striking. The simple but diverse melody, contrapuntal development, and the tensions are all remarkable."
He is the only pianist who can fully demonstrate the short but delicate sounds of Beethoven's music in a formal but magical way by using pedals. He was so rigorous about the sound tone of his piano, which he moved a Steinway & Sons piano from Paris to Berlin, and even hired a tuner from Amsterdam's prestigious concert hall, Concertgebouw.
Playing Hammerklavier, one of the earliest piano sonatas, Kim showed the epic scale, stable structure, and extreme details of the music.
"I tried to condense all human emotions through the 3 movements, expressing excitement in the first movement, abstractness and shock in the second, and the beauty of microcosm in the third," Kim said. "After a surreal silence, in the fourth movement I tried to convey the supernatural power and the completion of logic that generate from the simple structure."
Kim Sun-wook formed a new world of Beethoven's sonata by setting a special relationship with the invisible notes and sounds, and interpreting them in his own way. Maybe he fits better with a title of an "architect who creates an invisible structure on the piano." His first solo album makes us realize that there is much unknown sounds and undiscovered meanings hiding in Beethoven's sonatas.
suhchoi@donga.com