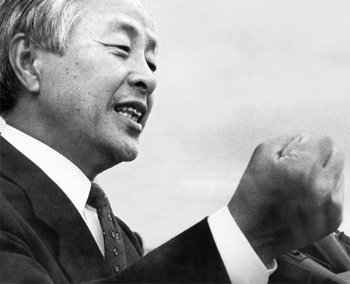 Former President Kim Young-sam, who made significant contributions to Korea's democratization and served as the nation's 14th president, died at 88 on Sunday. With his death, the so-called "Yang-Kim" (two Kims namely Kim Young-sam and Kim Dae-jung) has officially come to an official end.
The "Giant Tree," who had fought dictatorship as an opposition leader for more than 30 years, succumbed to a disease and passage of time. Kim was hospitalized at Seoul National University Hospital due to high fever on Thursday, suffered from septicemia and acute cardiac insufficiency, and was moved to the intensive care unit, before passing away at 00:22 on Sunday. His family members including second son Hyun-chul were seeing the former president`s death at his bed side.
President Park Geun-hye, who is visiting Kuala Lumpur, Malaysia to attend the ASEAN + 3 meeting, was quoted by presidential spokesman Chung Yeon-guk as saying, "I express my deepest condolences for the loss, and may he rest in peace." Park said, "The government will be preparing his funeral with respect by referring to the related laws and in consultation with his family." Park will reportedly pay her respect to Kim on Monday upon returning home.
The government held an extraordinary Cabinet meeting on Sunday, and decided to observe a state funeral for the late president. The government's main memorial altar will be installed at the National Assembly, and his funeral service will take place at 2 p.m. at the same place. His burial ceremony will be held at the Seoul National Cemetery after the funeral ceremony. The funeral parlor was visited on Sunday by ruling Saenuri Party Chairman Kim Moo-sung, main opposition New Politics Alliance for Democracy Chairman Moon Jae-in, Prime Minister Hwang Kyo-ahn, former President Lee Myung-bak, and former National Assembly Speaker Kim Soo-han. Also visiting were former Home Affairs Minister Choi Hyung-woo, and former First Minister for Political Affairs Kim Deog-ryong, who were members of the "Sangdo-dong faction," and ordinary citizens.
Born in Geoje, South Gyeongsang Province in 1927, the late president became the youngest to be elected as a lawmaker at age 26 in 1954, and served nine terms as parliamentarian, the most ever among the lawmakers in Korean history. Kim helped end military rules by cooperating sometimes and competing at other times with former President Kim Dae-jung who died in 2009. He was given two house arrests while struggling against a New Military government (under Chun Doo-hwan), and continued a 23-day hunger strike by risking his life.
He won the presidential election in December 1992, ushering in the era of civilian rule in Korea. While serving as president, he was credited for dismantlement of "Hanahoi," a private organization for selected officials in the military, implementation of the real-name financial system, and a system requiring ranking public officials to disclose family wealth, Korea's joining of the Organization for Economic Cooperation and Development, and correction of history including legislation of the "Special Act on May 18 (Gwangju Democratization Uprising)." On the other hand, Korea experienced a financial crisis just before his term ended in 1997, and his son Hyun-chul was arrested for influence-peddling in state affairs during his term, among the issues that tarnished his reputation.
will71@donga.com